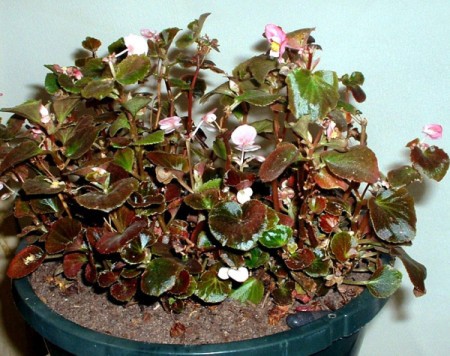 Photo Description
The picture shows a wax or fibrous begonia. While there is nothing spectacular about this particular plant, I wanted to share a couple things I learned about it, this year.
They are found in the spring at most any garden center, usually available in white, pink and red. I purchased these as a 6 cell pack for $1.88 at Wal-Mart this past spring. I buy a couple 6 packs every year, bring them home, stick them in an 8-10 inch pot, and let them grow.
This year, I planted one cell pack in a 16 inch pot. The first thing I learned was that begonias will attain a size according to the size container they're planted in. Those 6 little plants completely filled the larger container just as they would a smaller one. From now on, they will be given plenty of room.
For those of you familiar with these bedding plants, you know they will be in constant, full bloom from the time you bring them home, til the first frost. While they may be susceptible to some pests and diseases, I have never had a problem with either.
I watched the container of begonias showing their beauty all spring, summer, and fall. Then, the first killing frost literally cut the plants down to the soil. I removed all the dead tissue, lifted the plants, and repotted them in a smaller container. I brought them into the house, not really expecting them to revive.
I did not place them near a window. They only received a little light from a couple fluorescent tubes. I couldn't put them close to the tubes because that space was taken by other plants.
Well, here it is mid January. The plants did revive to the point of looking quite healthy and actually blooming. By early April, this container should be filled to the point it will provide more than enough cuttings for myself and friends.
So, the second thing I learned was, while these plants like full, all day sun, it is possible to continue growing them indoors under much lower light through the winter, and they will provide a bit of greenery and bloom for those late January days.