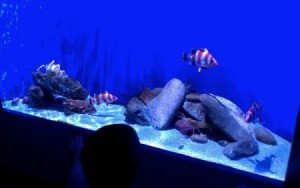 If you bank or have a credit card with Bank of America, every first full weekend of every month you can take advantage of complimentary/free general admission to select museums, gardens, aquariums in the United States.
If you do not bank with Bank of America, check to see if your bank institution offers anything similar, or any cool perks!
Attached is an image from today's trip to Birch Aquarium at Scripps, complimentary admission. We saved a lot of money because the tickets for adults is $18.50, children 3-7 is $14.