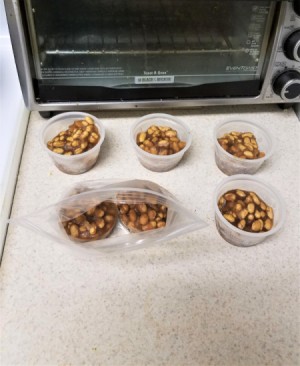 I was made privy to a tip from a man who used to work for B&M Baked Beans. He told me you could freeze them. I bought a big #10 can and dived them up into zip bags. Sure enough, they heat up like you just took them out of the can.
So, yesterday I had a can of baked beans made with beer. I didn't want to keep them in the fridge and have to eat them all soon. Now this time, I put them into 4 oz. former fruit/applesauce cups.
Once they were frozen, I simply "popped" them out into zip lock bags and put them back into the freezer. You can do this with corn, soup broth, mixed veggies, instant spuds, and the like.
Not only do they help with portion control, they are super easy to just grab some of your fav's for lunch or dinner.
N-JOY!