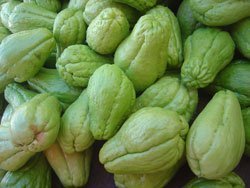 Selecting High-Quality Chayote:
Chayote goes by many names, including vegetable pear, but it has a unique taste all to its own. It is usually prepared like a summer squash, but has a crispier texture and longer cooking time. Look for dark to light green, firm, pear-shaped fruit that is free of blemishes. Select those with tender skins.
Preparing for Freezing:
Wash, remove stem and blossom end and remove seeds. Do not pare. Chayote can be sliced or diced for blanching.
Blanching Time:
Water-blanch for 2 minutes or until tender. Cool, drain and mash for freezing.
Best Freezing Method(s):
Dry Packs: After blanching, pack cool mashed or diced chayote directly into airtight containers for freezing. Leave 1/2 inch of headspace.
Suitable Packaging:
Freezer containers should be moisture and vapor resistant and should not be prone to cracking or breaking at low temperatures. Containers should provide protection against absorbing flavors or odors and should be easy to label. Suitable packaging for freezing chayote includes freezer-grade plastic bags, rigid plastic containers or glass containers and heavy-duty aluminum foil.
Maximum Storage Time:
6 to 8 months at 0ºF.
Thawing:
Add frozen chayote directly to dishes while cooking.
Refrigerating Chayote:
Store chayote in the refrigerator, lightly wrapped, for at least 2 weeks.