We planted a row of red potatoes in our garden. I finished digging them up and prepared them for freezing. This is my first time freezing potatoes. I'm hoping to use them in several different recipes. Wish me luck.
This is the way I did it.

After digging the potatoes out of the ground, they have a lot of dirt on them. Using two five gallon buckets, wash the potatoes, shifting them from one bucket to the other, until the water was clear.
After separating the large ones from the small ones, put them into the kitchen sink, scrap the skins off and remove the eyes and bad spots. Rinse well.
Cut them into quarters or halves according to the size.
Place the potatoes in boiling water and blanch on simmer until they are tender but not cooked completely. Blanch the large ones first.

Remove the potatoes from the water with a slotted spoon and place in a strainer to drain.
Spread the potatoes out on racks to cool and dry out.

Cut into desired sizes and place in Ziploc freezer bags. Using a straw, suck the air out so they will be air tight.
They are ready to freeze.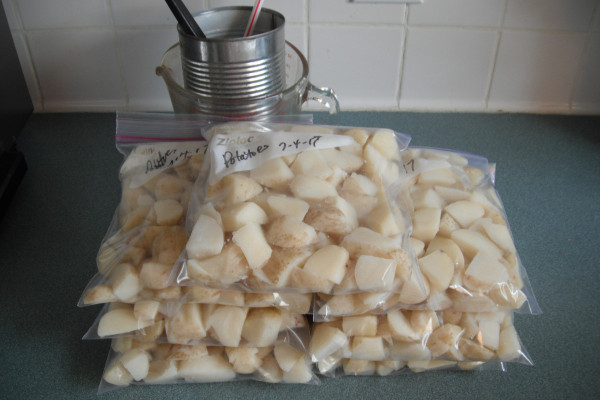 July 15, 2017
0

found this helpful
Top Comment
For dinner, I prepared my first package of frozen potatoes. I was roasting a chicken on the grill for 1 hour and 30 minutes so I prepared the frozen potatoes by adding some sauted onions, bacon bits, salt, pepper and grated cheese. I wrapped it in tin foil and placed it on the grill with the chicken for the last 30 minutes. I have never fixed potatoes on the grill like this but I thought I would give it a try. I didn't have a recipe to go by.
The texture was just like it was before I froze them. They were not quite as good as I expected them to be. To me, they tasted day old.
Maybe it would have been better to let them thaw first. I think they would have been better if I had added some butter, more salt and some garlic powder.
We ate them with the chicken and my husband said they were good.
I'm going to try preparing them different ways. I guess I expected them to taste better than store bought potatoes. Most home grown vegetables do taste better. I can't say they were better. They tasted the same to me.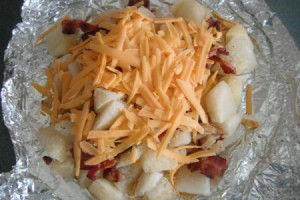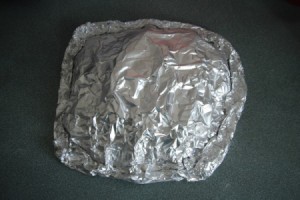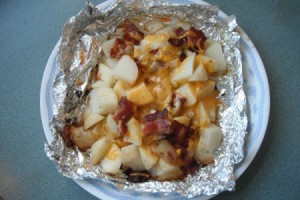 July 9, 2017
1

found this helpful
You should know that ancient peruvians and even now, Peruvians use frozen potatoes in one of their traditional and delicious dishes called "caraplucra"