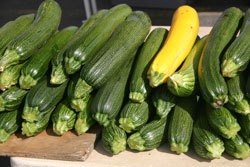 A Guide to Freezing Zucchini
Selecting High-Quality Zucchini:
Choose young squash with smooth, tender skin and a vibrant, dark green color. Steer clear of yellowing (past prime) zucchini with pits, soft spots or shriveled looking skin.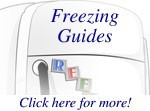 Preparing for Freezing:
Wash, but do no not peel. Cut zucchini into 1/4 to 1/2 inch slices depending on freezing method.
Blanching Time:
Water-blanch for 3 minutes or steam-blanch for 1 to 2 minutes. Cool promptly and drain.
Best Freezing Method(s):
Unblanched Slices (great for stir fry):
Wash and drain zucchini. Pat dry. Trim ends and cut into 1/4 inch slices. Pack in suitable containers. Seal, label and freeze.
Boilable Bags:
Wash and drain. Pat dry. Trim ends and cut into 1/4 inch slices. Pack in boilable bags, press out air and seal. Blanch in boiling water (4 bags at a time for 5 minutes. Cool bags and pat dry. Label and freeze.
Tray Packs (great breaded and fried):
Wash and drain. Cut into 1/2 inch slices and place unblanched in a single layer on a baking sheet. Tray-freeze until firm. Transfer to suitable containers. Seal, label and freeze.
Sautéed Zucchini:
Sauté and package, leaving 1/2-inch headspace. Seal and freeze. Sauté gently in a little melted butter until barely tender. Cool, pack into plastic containers leaving headspace at the top. Freeze up to 3 months
Grated Zucchini (great for baking):
Wash and grate zucchini. Steam-blanch for 1 to 2 minutes until translucent. Cool. Pack pre-measured amounts into containers and seal leaving 1/2-inch headspace. Label and freeze.
Suitable Packaging:
Freezer containers should be moisture and vapor resistant and should not be prone to cracking or breaking at low temperatures. Containers should provide protection against absorbing flavors or odors and should be easy to label. Suitable packaging for freezing zucchini includes freezer-grade plastic bags, rigid plastic containers, glass containers, heavy-duty aluminum foil or foil containers.
Maximum Storage Time at 0ºF:
Unblanched slices-4 to 6 months; blanched-10 to 12 months.
Thawing:
Add frozen zucchini directly to dishes while cooking.
Tips & Shortcuts:
All summer squash can be prepared for freezing in a similar way.
Refrigerating Zucchini:
Store in a perforated plastic bag for up to 1 week. Do not wash until ready to use.
In July or August it is best to keep your car doors locked or you are apt to end up with a backseat full of oversized zucchini. My solution is both simple and thrifty. For the giant ones, de-seed (using a spoon), peel if necessary, shred with a food processor, and store in two cup amounts. You can put about 9 sandwich bags full into a gallon freezer bag.
Throughout the winter add a sandwich bag to every chili, spaghetti sauce, stew, or vegetable soup that you make. You can also thaw it for use in zucchini muffins and zucchini bread (drain well). If the free zucchinis are less than massive sized, simply wash, dice, and freeze in similar amounts and use as with any vegetable. This certainly adds color and vitamins to winter dishes and the cost is little.
By Mainedame from Anson, ME
When freezing zucchini, do l shredded it after I cook it and then freeze it?
By Susan from lN
June 29, 2010
0

found this helpful
Hi Susan! I have had good luck with simply shredding it, measuring it out into 4 cup increments, and freezing it. I have noticed that when I thaw it to use in baking bread, the quantity is about half of the freshly shredded variety. I guess that is from the liquid portion freezing and thawing. I recently read that you should squeeze out the liquid before freezing. I think I will give that a try this year. Good luck!
June 29, 2010
0

found this helpful
If you plan to use the shredded zucchini in bread, you don't cook it anyway. You just leave it raw. I shred mine, put in freezer without any other prep. Sometimes it gets a little too "soupy" when frozen so you might want to drain some of the moisture off so your bread turns out ok.
June 29, 2010
0

found this helpful
I just shred it raw and put it in freezer bags. Once thawed I usually drain and squeeze out excess water.
June 29, 2010
1

found this helpful
I, too, just shred and freeze in a freezer bag. For fried or baked zucchini, I slice it and bread it, freeze on a cookie sheet then put into a bag and put into the freezer. I do the same with my okra.
Can I freeze zucchini whole?
By Christel from Cleveland, SC
October 28, 2010
0

found this helpful
Right here at ThriftyFun there is a great post about freezing zucchini.
October 30, 2010
0

found this helpful
I wouldn't. Wash, slice, blanch for 3 minutes, place in ice water for 5 minutes, drain well to remove as much water as possible, place in freezer bags and freeze.
October 30, 2010
0

found this helpful
I wonder if you could freeze this whole if you freeze with dry ice? Alton Brown once did that with whole strawberries on his show and he said they froze so fast that they didn't get all mushy like regular freezing. I have no idea what dry ice costs, but it might be worth trying out. Same goes for whole peaches, blueberries. You could buy a little of several things and while you have the dry ice, freeze a variety of things. It only takes a couple of minutes. Then thaw the next day and see how they come out.
July 10, 2012
0

found this helpful
When freezing zucchini what do you have to do so it doesn't turn watery when thawed out?
By Vicki W
July 17, 2012
0

found this helpful
Unfortunately, squash is a high percentage water, so it will always be watery when thawed. This is why most recipes for zucchini breads, muffins, cakes, etc, are very thick--to allow the excess water from the zucchini to thin the batter. Personally, when I freeze grated zucchini for breads, I always use its water in the recipe (I usually add powdered milk to it, for the liquid).