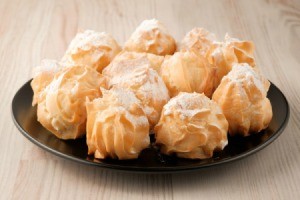 These French breakfast puffs are the perfect way to spoil your sweetheart this Valentine's day.
Ingredients:
1 1/2 cups all-purpose flour
1/2 cup sugar
1 1/2 tsp. baking powder
1/4 tsp. ground nutmeg
1/8 tsp. salt
1 egg, lightly beaten
1/2 cup milk
1/3 cup butter, melted
Coating:
3 Tbsp. butter
1/4 cup sugar
1/2 tsp ground cinnamon
Directions:
Preheat oven to 350 degrees F. In a medium bowl, combine flour, sugar, baking powder, nutmeg, and salt.
In a separate bowl, combine egg, milk, and butter. Add to flour mixture.
Line muffin tins with baking cups and fill 2/3 full. Bake in a 350 degrees F for 20-25 minutes or until golden.
While puffs are baking, melt 3 Tbsp. butter in a small bowl. Combine sugar and cinnamon in a separate bowl. Set aside.
When puffs are golden, remove immediately from muffin pan. Dip tops of puffs in melted butter and then into cinnamon-sugar mixture. Serve warm.
By CJ