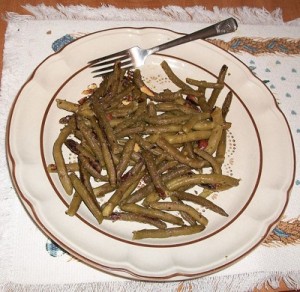 This turns a can of green beans into a side dish that is just delish!
Ingredients:
green beans (fresh is better, but if you can't get them, a can of green beans is fine. I prefer french cut.)
butter or margarine
garlic powder (not garlic salt)
some lemon pepper, and if you like, some Italian seasoning.
Nice touches: Sliced almonds, mushrooms, and/or maybe bread crumbs
Directions:
I put my seasonings in the frying pan before I heat it, to keep the holes from clogging up. Then add the butter or margarine. Simply drain your can of beans and drop them in. Fry until they are a bit crispy and the seasonings have a little crackle to them.
I often add sliced almonds and sometimes some canned mushrooms.
Servings:
1-2
Time:
2 Minutes Preparation Time
2 Minutes Cooking Time
Source: My daughter Sabrina made a fresh green bean casserole for Christmas. It was amazing, as she pre-fried the beans and used half the soup. It was too good to let it go for just the holidays, so I just modified it. Now, I can't eat them any other way! They are so good and quick, too.
By Sandi/Poor But Proud from Lake Zurich, IL
Read More

Comments