October 24, 2007
0

found this helpful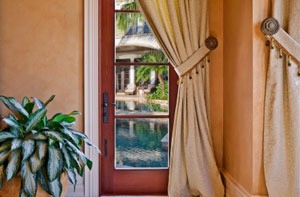 Advice for making frugal curtain tiebacks from the ThriftyFun community. Post your own tips here.
Ribbon, Bandannas And Barrettes
In my living room I use 2 inch wide ribbon that matches my decor, the curtains are made out of sheets. In my son's room, I use bandannas. When I really need to pull the curtains back so they don't get caught in the window fans, I hold them with binder clips.
I have used large hair barrettes from the flea market, some are very decorative. It depends on how thick the curtain is.
Neckties, Scarves And Other Ideas
Long neck scarves, cheap at thrift stores, are great to use. You can also buy cheap men's neckties at thrift stores too, they'd make pretty funky tie-backs! If the curtains are long enough, you can also trim some fabric from the bottom to make matching tie-backs.
Or how about being really thrifty and plaiting the legs of old stockings or tights and using those! :) That'd be a conversation piece!
By Jojo
Braided Yarn
I took 3 pieces (equal length) of yarn (any color) and braided them together and used them to tie back my curtains. I do however like the idea of the neck scarves and ties posted on here earlier.
By suzanne
Use Cup Hooks And Braided Cord
I just recently purchased tiny brass cup hooks (from the hardware section at Walmart) and some delicate braided cord from their sewing section to use with my sheers in the living room. Works perfectly. The total cost was about $2.00.
By Bonnie
Old Necklaces
Old necklaces make good tiebacks for curtains. I'd prefer pearls, but use whatever you have.
By Carol in PA
Cheap Necklaces
I've used cheap necklace for kids at the dollar store, they do look great as curtains holder.
By NeeNoon
Silk Vines
I have used silk plant vines, like ivy, as tiebacks on my white sheers in my bedroom. They matched the print on my comforter, and I held them to the window frame with a thumbtack. I think they came from the Dollar Store, and I got two tiebacks out of each one. For three windows, it cost me $3.00!
By Lisa Mutton
Fishing Line
I use monofilament or fishing line.
By Karen
Wide Ribbon
I also use 2 inch wide satin ribbon.
By Janice C.
Use A Jumprope
A colorful child's jump rope cut into lengths you need or just regular rope you can buy according to length at the hardware store and eye hooks to hood it all.
By Paula Jo from Mebane, NC
Match Your Tiebacks To Your Room
You can use almost anything for a tie-back.
In the kitchen, drill a little hole into the handle end of silverware and then bend them backwards into a U shape. Screw it to the window frame and it looks really nice with the curtain in it.
In the bathroom, take old shower curtain hoops and link them together like a little kid's chain around the curtain and hook it onto a cup hook screwed into the window frame.
You can use a piece of the bendable hotwheels track in a boy's bedroom (or a girl who likes cars). Just punch a hole into both ends of the track, bend it around the curtain, and onto a cup hook in the wall.
Girls room, how about a piece of ribbon with Barbie clothes sewed to it? Or little toys from Happy meals? Or just string a bunch of buttons (kids can do this part).
At Christmastime, use garland or that plastic candy-looking garland. This can be done for any holiday or time of year.
By Joy
Feel free to post your ideas below!
Answers
October 31, 2007
0

found this helpful
I have found cord and tassels at the dollar store - and even some cord rosettes attached to large plastic clips to hold up my curtains. This goes with my shabby chic decor.
By Linda (Guest Post)
October 31, 2007
0

found this helpful
I have used several strands of raffia and a few silk flowers tucked in at the top. Very casual look.
January 18, 2019
0

found this helpful
I agree with the previous person, the Dollar stores are great for finding tieback material. I have used the fancy twist-tie ribbon in the craft or giftwrap section.
They have sparkly gold, silver, red, or other colors, and you can easily bend and twist them around the curtains, make a bow, or just hang the ribbon down. Then I just use a tack to attach it to the wall.
Answer

this Question

...