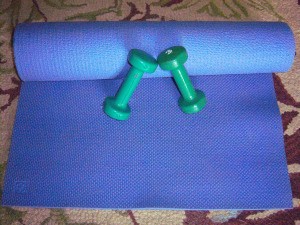 I am trying hard to stay healthy, isn't everyone? I've tried the YMCA, which was wonderful, but it isn't close by. Between the travel cost, time and membership, I looked for alternatives.
I saw some interesting offers on Groupon for free one or more month memberships to online exercise sites (DailyBurn, Grokker) which were also great too. I would do them at home daily since they are always available, rain or shine. The programs are so diverse, interesting, and much more convenient. One even offers a daily, changing exercise program with different instructors everyday. I treated them like a scheduled appointment I HAD to attend, which was also great. The only downside was that it would cost me a monthly fee after the free trial period.
After the second website expired, I decided to check online and see if there were free exercise programs. I have a ROKU (which is a great asset to see free programs, btw) and went on to YouTube channel through it. I found a great free husband/wife team that offers a ton of great free exercises plus more, named Fitnessblender.
I signed up and it is now available right on my TV. I have been doing it at 9:00 every morning just to stay committed but can always do it whenever I want if my schedule is busy at that time! The exercises counts down for you and even shows how many calories you burn doing the exercise.
It's just a great way for me to stay motivated, without spending $15 a month on a website OR even more at a gym! They say the best exercise is the one YOU ACTUALLY DO and having it right in my home, with no prep to go out or anyone watching is a great incentive for me!
Hopefully it will also save me in medical bills since I am losing weight, staying in shape, building muscle and improving balance to prevent falls and more! Medical costs are one of our most expensive costs in this country. Staying healthy is the ultimate ThriftyFun tip!