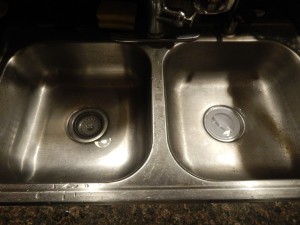 Yea, Yea, we've read all these tips on how to get rid of them and most help, but they just don't get rid of all of them. Well, I'm here to tell you a good way of getting rid of them for good and I mean all of them. We had them in our bathroom, kitchen, and everywhere. They were driving us crazy!
If you go read about them you'll find out they breed and live in your drains and houseplants. I put all my plants outside too, just in case they were in them too.
Now when you thinking about these flies and how they breed and live, I had to tell myself to cut off how they breed and it might help. So I went and bought plugs for every drain in my house, even for the bathtub. If you get them at the Dollar Store there pretty cheap.
I also taped an old cut up sock around the washing machine drain to keep them out of there too. Be sure not to block off all the air to this drain as it will not drain without air being able to go in. That's why I used the old sock, it still lets air in for it to drain right.
I plugged up all the drains and kept them plugged all the time. If you look at the picture, I always leave water in the sink with the plug in to make sure they can't go around the plugs too. If I needed the sink for something, I always put about 4-5 inches of hot tap water in the sink before I unplugged the sink for use. This will wash down the drain any flies that hatched while the sink drain was plugged. Then I always remembered to plug it back up.
I did this for around 3 months or so, because most of the ones flying around died after a month or so. But I kept the drain plugs in, and still do today, just in case. They couldn't breed so they all went away after that.
So think about it. If they can't breed they can't come back. This worked for me, hope it helps you guys too. Thanks for reading this.