November 29, 2014
1

found this helpful
Best Answer
If they are nits from lice, you can do the same killing with Mayonnaise.
You may want to keep a few of them inside a folded up piece of clear tape, sealed on all four sides, and do a google search that identifies them for you. Match the photo with the tape and you will have the problem half solved. Other than that, you may want to seek webmd.com help for skin problems. I hope this helped.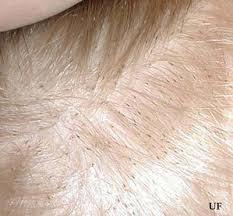 January 14, 2019
0

found this helpful
I had the same black specs under my fingernails after I scratched my head. What was that?
July 1, 2019
0

found this helpful
There isn't a product made to wash out fleas in our scalps
January 4, 2016
0

found this helpful
Best Answer
If your daughter has lice and nits in her hair it is a long process to get rid of those as well. You can use Mayo to kill the lice. You will then have to go through and pic off every single nit out of her hair. You will also need to wash all bedding and vacuum everything. If she has stiffed animals she likes to sleep with those need to be put into black trash bags and tied off for 48-72 hours to kill and live lice that might have crawled on them.
Also one place that most people forget to check are car seats and car head rests those should be vacuumed as well. Once you have killed all the lice and removed all the nits from her hair you need to have someone check your hair as well. And repeat the process after a few days you will need to check her hair again, to make sure you didn't miss any. Lice are just as hard to get rid of as fleas are. I wish you all the best.
August 11, 2016
1

found this helpful
Best Answer
The black flakes or specs are their fecal matter (gross) but are not the fleas themselves. Showering should kill them, as you've seen, but it helps to shampoo, and bathe in general, with something containing natural essential oils, like tea tree.
Cider Vinegar also apparently works as well.
November 26, 2014
0

found this helpful
They are nits and you need to kill those eggs with a special shampoo and then comb them out with a special comb, go to drug store for help
September 9, 2015
0

found this helpful
that picture looks like what my daughter and have we spent two weeks in Florida went to drug store to buy lice shampoo florida pharmacist suggested head and shoulders would kill them
i got home purchased lice shampoo today treated my daughter waited the required ten minutes after treating my daughter it didn't seem to kill them i need help/advice the adults look like a brown bug that is sort of see through i have tried lice shampoo and head and shoulders shampoo is there any other way to get rid of these pests?
July 19, 2016
0

found this helpful
Lice are becoming immune to the otc stuff
Get your Pediatrician to write a prescription for sklice or another prescription lice treatment. Good luck, stay persistent.
February 11, 2016
0

found this helpful
It may be the feces of a flea. Try placing a drop of water on some. If it turns red, it probably is.
The red color is digested blood. I would then try to get rid of them. I learned this from my vet.
June 29, 2016
0

found this helpful
Lil black spots are lil fleas. I'may still figuring out how to get rid of mine.
December 14, 2016
0

found this helpful
Little black spots are most likely flea dirt, aka flea poop
July 3, 2017
0

found this helpful
It is "flea dirt" also know as poop. The insect consumes blood and flea dirt comes out. These little blood suckers also leave a tiny bit of blood after a meal and it dries dark, when you scratch your scalp, you get the stuff under your nails
August 28, 2017
0

found this helpful
All it is is feces, as long as you wash it out itll be fine
September 1, 2017
0

found this helpful
The eggs are not black. What you found is flea dirt (poop)