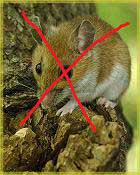 We have a mouse in our basement floor condo! Now I'm not 100% sure but lately I've noticed there are boxes in the house with strange holes in them and tonight I found a book of mine that had been under the Christmas tree to help keep it level eaten! We also have a dog that tends to poop in the house so if there were droppings, I'm sure we've thought they were part of the pup's poop.
We keep their food in a plastic container and all the rest of our food high up in a pantry. The only dog food down is for the 10 pound dog that can't have her food raised (she can't reach it). We also have a cat who loved the corner where the problems have occurred with the so-called mouse! How do we find out for sure if we have a mouse? Both of us are terrified of rodents and with 2 small animals, traps are probably out of the picture. Help!
What are some NON TOXIC and safe preventative ways to get rid of and keep out mice? We live in the burbs and have a forest across the street as well as a small wooded area behind our house so I'm sure there are woodland creatures there but I'd rather them there and not in here!
Trish from Outside of DC in the Burbs
Answers:
Getting Rid of Mice Safely
Sure sounds like a mouse. If your kitchen sink is enclosed by cabinets bait a trap with bacon and put it under the sink. Tape the door shut real good (so your pets can't pry it open). Your cat and dog can't get to it but the mouse will find a way in there. Hope this helps. (02/21/2008)
By perfumed fan
Getting Rid of Mice Safely
Check out the following link:

http://sunriselaneproducts.com/cruelty_free_pest_control.html (02/22/2008)

By Maryeileen
Getting Rid of Mice Safely
I, too am TERRIFIED of mice, but had them in my house this year. I tried D-CON's new "No View, No Touch" trap. They're round and come in a pack of 2. There's a small opening on the bottom where you bait them (I used peanut butter) then close the opening, turn the "trap" counter-clockwise and it's set! There are even arrows and markings on the top of the trap to to tell you when it is set and when you've caught the mouse. When you've caught the mouse, it is inside the trap and you NEVER see it. You just throw out the whole thing. I used it in January and caught the Nasty Bugger the first night! Even though they cost more than the regular wooden traps, they were more than worth it to me. (02/23/2008)
By youngster8
Getting Rid of Mice Safely
I used plastic traps similar to the old wooden ones. They are found at home stores. Use a little peanut butter smeared on the trap instead of cheese, the mice have to work to get it off and they love the taste. Remember to keep it away from pets so they are not harmed by the trap. (02/26/2008)

By Travis