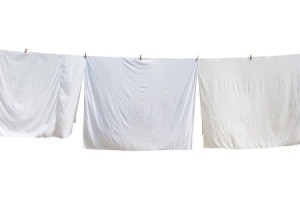 In the tips section on Sour Smelling clothing, someone keeps writing to use "nappy soaker". What is that? I never heard of a nappy soaker? I have the same problem with sour smelling sheets and bedding no matter what I've tried (and I bathe and deodorize myself every day! But I think it was created from washing my bedding in cold water for years...not a good idea. Now I have sour smelling bedding). Thanks so much,
Mia
Answers
By (Guest Post)
October 21, 2004
0

found this helpful
A guess. In England, diapers are called nappys (nappies?) Maybe the suggestion is for some diaper pre-soak product?
Michael
October 21, 2004
0

found this helpful
Its me! I'm the nappy soaker queen! Yes - it is for diapers. In Australia the best known brand is Napisan. I use generic brands. The one I have at the moment has the active ingredient sodium percarbonate and is called Nappy and Laundry treatment/laundry soaker. They recommend that the articles don't need a full cycle wash after soaking, just rinsing by hand or machine - I throw mine in with the wash anyway. I only soak stained or very heavily soiled articles. I also wash in cold water and don't use detergent in the wash but have never had any problem with sour smelling bedding. Are you sure its not your mattress? Do your other clothes smell sour as well? Maybe its a washing machine problem???? Just some thoughts.
Regards
Jo
By RoseMary (Guest Post)
October 22, 2004
0

found this helpful
I have almost always washed my bedding in cold water, however, I use a soap with bleach that's safe with color clothes too. I would also make sure that your bedding is totally dry before putting away. I have also heard that this is a problem with high humidity areas. Which I don't know what you can do then as I live in southern Colorado. Hope you can get it solved.
October 22, 2004
0

found this helpful
To remove sour smells, I put vinegar in the bleach cup of the washer and use a tiny amount of liquid softener. If that doesn't sovle the problem, running the empty washing machine through a hot cycle with a cup of chlorine bleach might take care of it. That is the recommendation that came with my front loading Maytag. My thrifty heart can't quite stand an empty washer, so I throw in a few rags and it still seems to clear up the smells. It's possible that dirty lint and guck have built up under the agitator in a top loader, so removing that and cleaning it might be helpful.
October 22, 2004
0

found this helpful
Jo Bodey:
Do you know what the product equivalent would be here in the United States to the Napisan product? I don't know if it's the mattress (too?), it's hard to tell, but it's definitely the sheets. The mattress isn't that old, maybe 6 yrs old and in excellent condition. The mattress and bedding have never ever had an "accident" on them either. And my other clothes all smell fresh and fine. If you know the product equivalent here in the states, I'll look for that meantime. Thanks so much.
By (Guest Post)
October 22, 2004
0

found this helpful
If you live in a moist area as we do (coastal) towels, dishcloths and other such items often get a sour smell. Bleach will often take care of this but if you are alergic to bleach there is a friendly alternative. For smaller items, thoroughly moisten the item and then microwave for 2-4 minutes (longer for bigger items). The heat will kill whatever bacteria is causing the smell. I do this every day or two with my dish cloth. Larger items can be simmered in a canner or large pot. Put the item in the pot with enough cool water to cover. Bring to a simmer and hold for 20 minutes. Wash as you would normally.
You can also try running a water-only load through your washer along with a generous dose of bleach. If you react to bleach, run a second or third time before running a load of actual laundry.
Since washing machines never completely empty, it is possible for bacteria to build up, especially if you do not use bleach or detergents on a regular basis.
Rene
Bonilla Island Lighthouse
www.fogwhistle.ca
By Tiger lil234 (Guest Post)
November 4, 2004
0

found this helpful
I have read some of the answers and they're all great however,there is a product on the market called "washing Soda" and it's used in the laundry.it's really good to soak clothes in and so is white vinegar.sunshine will remove a lot of odors so try hanging your sheets in the air and not using the dryer for awhile.sometimes it has to d with the material the sheets and pillow cases are made from--I had a couple of perma press sheets that had a burned odor in them and used them for 5 years,the smell never left,I just placed them in the drawer with baby powder added and used them.
November 18, 2004
0

found this helpful
I have never heard the term "sour smelling" used for sheets, etc. I'm assuming it means the same as "heavy smelling".
Use ammonia in the wash water (use as hot water, as hot as material will take). The smell comes from the oils in your body. Even though they are clean, the oils don't always wash out of the material. Ammonia or bleach helps cut the oils.
Read More

Answers