Getting Rid of Web Worms on Pecan Trees?
All the pecan trees in our area are wrapped up with these webs. Can someone tell us what these worms turn into? Do you know how to get rid of them?
Hardiness Zone: 7a
By littergitter from NC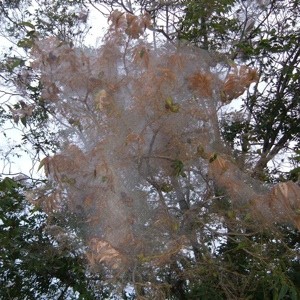 Add your voice! Click below to answer. ThriftyFun is powered by your wisdom!

September 11, 2010
2

found this helpful
Best Answer
That looks like fall webworm. It can reduce crops in pecans. Here's some info from your state university: www.ces.ncsu.edu/.../note46.html

September 11, 2010
1

found this helpful
Best Answer
I live in North Carolina too and believe me I don't like these worms any more than you. I have had a great deal of success by spraying them with wasp and hornet killer.
They are too high for me to climb to get them and most of my neighbors cut the limbs and burn them. I just use the spay and haven't had any now for two years.

September 11, 2010
3

found this helpful
Best Answer
I live in Texas and have had the same problem with webworms. They will decrease the pecan crop on your trees. I have found the easiest solution is it to take a long pole, head out in the evening, and poke holes in the webbing. Then the birds can get in and will eat the worms and the web will disappear. My crop has increased greatly since. That is much easier for me than trying to spray them.

June 17, 2018
2

found this helpful
And wasps love to get in there and eat those worms too!! So I try to remove as much of that hard web to Give access to dinner!!! Lolll

September 14, 2010
3

found this helpful
Thanks for all the information. I had a can of hornet spray that had only one squirt left in the can. Sunday afternoon, I sprayed just a little on a web and the next day, the worms were dead.
The tree is covered with webs and all the leaves are about gone. Next year, if the tree lives, I'll get an early start on keeping these worms under control.

May 21, 2018
2

found this helpful
I wrap a newspaper around a long wooden dowel, set the newspaper on fire and stick the fire into the web. This works really well. You will have to be very careful with the fire stick.

July 7, 2018
1

found this helpful
Juat a quick share. The high nests I used the large pole which I attached an absorbent drag to and soaked in a mixture of 1/4 cup cooking oil, one cup white and one cup apple cider vinegar, 1/16 cup salt and 1/4 cup cheap (but nice smelling shampoo. Put on paper cover alls, hat and safety glasses and busted webs top to bottom ensuring the leaves and stems surrounding web were treated. Birds devoured the worms in the web and ones fallen to the ground. Cut away at least three feet of branch from web two days later and burned.
A few days later returned to find worms which had escaped turned into caterpillars ( easy to spot due to leafless branches and eating in groups from furthest leaf on branch inward. Had some garden spray left in sprayer Lawn and Garden plant and flower which i used directly on catapillars as well as surronding branches. Couple hours later, many dead pillars on tarp I had left under tree. Burned all that and last inspection looking good so far. Hope this helps.
Add your voice! Click below to answer. ThriftyFun is powered by your wisdom!
Published by ThriftyFun.
© 1997-2022 by Cumuli, Inc. All Rights Reserved.
https://www.thriftyfun.com/Getting-Rid-of-Web-Worms-on-Pecan-Trees.html