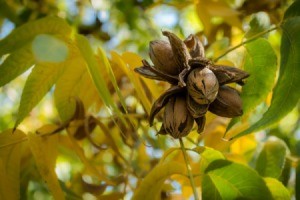 Question:
I live in Alabama and have pecan trees that have produced abundantly for years. But, the last two-year the crop has been rotten and this year I don't see many if any pecans on them. The pecans that have fallen off are rotten with bugs or something. What is the problem and how can I fix it?
Hardiness Zone: 7b
Judy from Leighton, AL
Answer:
Without seeing your pecan tree it's tough to say with any certainty what the problem (and the solution) might be. Pecan trees (and other nut trees) can suffer from a variety of maladies.
If you've had a couple of wet summers, it could be that your tree is suffering from some type of fungal disease like scab. Symptoms include dark spots on the undersides of leaves and the outer covering of the nuts. The leaves of a tree infected with scab turn yellow and the nuts fall prematurely. If that's the case, controlling it will depend on Mother Nature and waiting for a dry year.
Small dark spots can also be caused by stink bugs.
Do the pecans that have fallen to the ground contain small, grub-like worms? These could be pecan weevil larvae. The adult weevils are dark gray or brown beetle-like insects with long snouts. They lay their eggs on developing nuts, which then hatch and bore into the pecans leaving a small hole in the shell.
Another white worm found less frequently in the nuts is the hickory shuckworm. Infestations are characterized by olive green or reddish gray caterpillars that feed on buds and leaves and tunnel into young shoots to pupate. Adult moths emerge in May and lay their eggs on the nuts, which then hatch and bore into the shells.
A lack of nut production could point to pollination problems, too much water or not enough fertilizer.
You could be looking at one or a combination of problems. Hopefully some of this information will help you diagnose the problems and narrow down your search for solutions.