Does anyone know where I might find a replacement canopy for an outdoor/freestanding garden swing that's not too expensive? We've had the swing for several years, and it's been a good one, however the canopy has weathered and is becoming threadbare.
I saw a suggestion on another site to check Big Lots but the closest one (next town over) does not have any. I've only found a few online, and they're around $50-80. I know I could probably buy a whole new swing for almost that amount but prefer not to as my swing is still in pretty good condition. I don't want to be wasteful! Any ideas are greatly appreciated!
Leah from Shelbyville, TN
Answers:
Getting a Replacement Canopy for a Garden Swing
I had the same problem with my 3-seater swing. This summer I fixed my canopy with a tarp I bought at the local home improvement store. Since my swing is dk green with tan & brown cushions, I got a brown plastic tarp.

Cut it to size so it had about 4-5 inches overhang for the ruffle, centered it on the canopy frame, attached it with those plastic zip ties, (where they would not show) and now have a temporary canopy cover that looks just fine until I can locate a replacement OR come up with a better idea for a replacement.
I saw one house that had put the same type of tarp on their swing only it was in blue! I think mine looks better cause the brown matches the cushion colors. Just a thought. (06/06/2008)
By Indy Fayzer
Getting a Replacement Canopy for a Garden Swing
Hi Leah. I too had a time figuring out what to do with my defunct swing canopy. I bought a brown plastic tarp from the local home improvement store, cut it to size, with about 4 to 5 inches overhang(for the ruffle), used plastic zip ties(had to create holes around the edge in the tarp for them where they didn't show) And 'waa-laa', a frugal canopy for the time being!! Since my swing is dk green and tan/brown cushions, the brown tarp looks just fine(AND the tarps are cheap to buy). Just a thought for you to consider for your swing. (06/06/2008)

By Faye
Getting a Replacement Canopy for a Garden Swing
Always wanting a new set for myself but never wanting to spend $150 or more for one I just never got one. Then my daughters go totallty rotten and weather beaten and torn even mildewed.She was going to throw it away and I took it. Knowing how to sew I knew I could redo the whole thing. So I stripped the whole thing saving one of everything as my pattern and then bought fabric at walmart for $1.00 a yard which it required 8 yards.
You can buy any type fabric but I choose a polyester stretch fabric in rust color which I love. I repainted the frame with krylon paint in a Georgia clay rust color them made all new fabric pieces for it. It turned out great. I plan on taking off the complete fabric pieces each fall and wash & dry and store away to each summer so it remains like new. The top canopy was the easiest part to do. It was basically one long piece square.
I just put the fabric across it clipped with clamps in place letting it hang as I wanted then I stood underneath it and used chalk to mark a line on both sides along the poles underneath top so I would know where to add a fabric casing. Which I then sewed on in the under side. Then you just undo the poles and slide through the casing onto the poles. I just used a serger on the edges to give it interest.
So you could just pick a color fabric close to your existing fabric on it to match and do the same. here is my after picture of mine I redid. Which I had the before picture to show the set was terible looking. But I have one now and only spent $8 on the fabric $10 on the batting for it. By the way, the insides of those cushions from the factory the pads are just simply air filters like go in your airconditioner unit.
But they have no paper glued around them.
Its the type stuff like water ponds are lined with because it does not absorb water. So on the backs of my cushions I used just plain batting like in making quilts but on the bottom cushions I used air conditioning filters and just took off the paper so it did not get wet. We had had 2 hard rains since they were finished and the whole thing dries really fast. (06/06/2008)
By Julie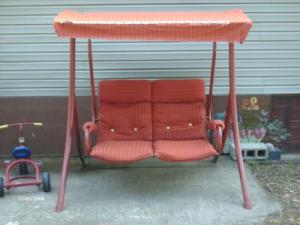 Getting a Replacement Canopy for a Garden Swing
We stretched a fitted twin bed sheet on our swing frame where the canopy was. (06/07/2008)

By Sib
Getting a Replacement Canopy for a Garden Swing
In my day, a friend or myself, would take the canopy off the frame, take the stitching out, and use the pieces for a PATTERN, to MAKE a new one. Hope you have a friend that sews! C Bolin, Winchester, VA (06/08/2008)

By Guest
Getting a Replacement Canopy for a Garden Swing
Do you think a picnic table cloth would work? Maybe two? It is almost the same idea as the tarp. The tarp and the table cloth idea seem more weather proof than just material. Good luck. (06/10/2008)

By Michele
Getting a Replacement Canopy for a Garden Swing
I replaced my canopy with a large vinyl tablecloth. Sewed seams where the original canopy had them and was able to get another five years out of the replacement. Walmart and Target always have a large selection of colors and prints. (06/10/2008)

By Hannah
Getting a Replacement Canopy for a Garden Swing
We had the same problem. We went to Wal-mart got some canvas material, cut out the shape of the canopy, stapled it in place . good as new. It doesn't match the cushions, but serves the purpose. Remember to get enough to cover both sides if you want to. (06/11/2008)
By Donna J.
Getting a Replacement Canopy for a Garden Swing
Try Garden Ridge, Home Depot, Lowe's, Wal-Mart, or even Target. If you sew, have you thought of using the old one as a pattern and making your own? (06/11/2008)

By Linda S.
Getting a Replacement Canopy for a Garden Swing
Check out Snappy Canopy on Ebay (06/26/2008)

By Vicki E.
Getting a Replacement Canopy for a Garden Swing
Hey All! I know it's been a while, but I did it! I ordered some acrylic fabric on ebay for about $20 (including shipping) & made my canopy! That fabric should last a while (it's what professional awning, etc. are made of)! To "theseamstress", thanks for the idea of marking the corners underneath to be able to place the corner pockets in the exact fitting places (used a black sharpie)! THANK YOU ALL for your great responses & wonderful input!
Leah (08/04/2008)

By Leah
Getting a Replacement Canopy for a Garden Swing
I've been looking for a replacement canopy for quite a while and just found Garden Winds (http://www.gardenwinds.com) has it! (08/26/2008)