December 3, 2012
0

found this helpful
She is a beautiful baby! I know that you love her dearly. She will probably be smaller that a Golden, but much larger than a Pom. I know that doesn't help much, but it is hard to say with a cross whose parents are so different in size. Your baby is an original. Just love her for herself and celebrate her size whatever it might be.
And please give that adorable baby a great big "smooch" for me!
November 28, 2014
0

found this helpful
I know this is old, but how big is your dog now? I just adopted this guy from the pound and they told me he was a golden retriever, but his paws are pretty small and I'm worried he won't be a big dog.
I want a dog that'll be at least 50 lbs.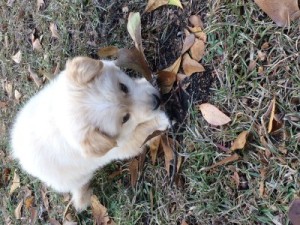 May 12, 2017
0

found this helpful
she's so beautiful! I came across your little zoey while researching the breed. :)
May 29, 2018
0

found this helpful
Currently own what I think is a mix of a black pom and a golden retriever. Stumpy paws, that were a little fat, she is growing into them. Big floppy ears. Her tail hair is not as long as a poms but retriever sounds right. Big nose, bigger than a poms. She is still a puppy, so wild, but she learns. Next to her is my full pom. I feel she might grow a little more but she was really short and stumpy as a baby. Definatly already bigger than my pom. I dont think she'll grow too much more.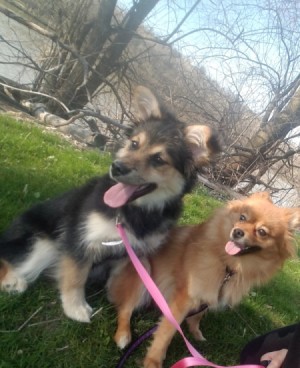 October 15, 2018
0

found this helpful
Cassandra, she is beautiful! She looks just like my Tanzy! Tanzy's mom was pomeranian, but the owner didn't know what the daddy was. I guess it was a case of star-crossed lovers, lol. She was 4 years old when she passed very suddenly from a brain embolism. She'd injured a leg and had to have it amputated. 4 months later, a blood clot broke loose and killed her instantly. I was devastated, and 18 months later I still miss her badly. She was the best dog I ever had, and I'm in my 50's.
She had a mild case of hip dysplasia, was about 40lbs, twice as big as a Pom, and half the size of a retriever. I can't imagine how the night of passion was managed, but the only dogs I could match Tanzy to online was this mix. She was sweet, funny, playful and smart as a whip. And she loved me. Some day I want another like her, but don't have a clue how to find another mix like this. Consider yourself the luckiest of pet owners. If you know if I've that needs a home, PLEASE reach out! I have pictures if you want to see how your dog might turn out.
September 27, 2020
0

found this helpful
My beautiful girl is vanilla . She's a Golden Retriever and Pomeranian 2 monthsb she is very angary & tearing the clothes & not eating foods