Golden Retriever and Pomeranian Mix
My beautiful girl is Zoey. She's a Golden Retriever and Pomeranian. Her breed is very rare and my mom and I can't seem to estimate roughly how big she'll get. When we got her at 8 weeks she was 6.4 lbs. Now at 17 weeks she's 13 lbs exactly. She has big paws, but short stubby legs with a long body. She is absolutely precious. Her personality is so unique and personable it's amazing. I was wondering if I could get some help from past/present Golden Retriever and Pomeranian mix owners.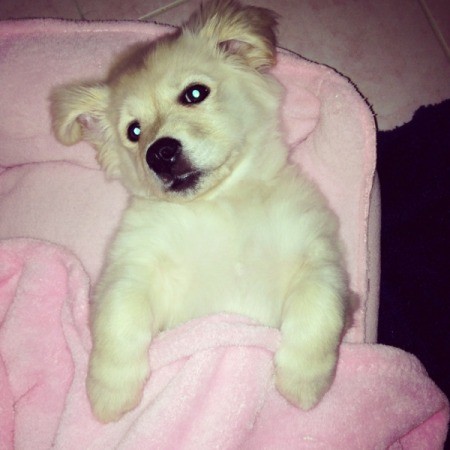 Add your voice! Click below to answer. ThriftyFun is powered by your wisdom!
December 3, 2012
0

found this helpful
Your Zoey is a beautiful little girl but there is no such thing as a rare Golden Retriever/Pomeranian mix. Any more than any other cross-breed. And why would anyone ever consider mating a large breed to such a small one. And with no disrespect why would you want to cross-breed any dog when there's hundreds of pedigree ones to choose from.
December 3, 2012
0

found this helpful
She is a beautiful baby! I know that you love her dearly. She will probably be smaller that a Golden, but much larger than a Pom. I know that doesn't help much, but it is hard to say with a cross whose parents are so different in size. Your baby is an original. Just love her for herself and celebrate her size whatever it might be.
And please give that adorable baby a great big "smooch" for me!
November 28, 2014
0

found this helpful
I know this is old, but how big is your dog now? I just adopted this guy from the pound and they told me he was a golden retriever, but his paws are pretty small and I'm worried he won't be a big dog. I want a dog that'll be at least 50 lbs.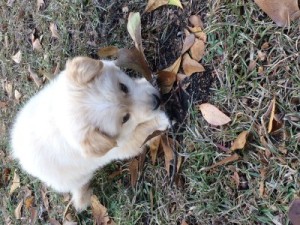 May 12, 2017
0

found this helpful
she's so beautiful! I came across your little zoey while researching the breed. :)
May 29, 2018
0

found this helpful
Currently own what I think is a mix of a black pom and a golden retriever. Stumpy paws, that were a little fat, she is growing into them. Big floppy ears. Her tail hair is not as long as a poms but retriever sounds right.
Big nose, bigger than a poms. She is still a puppy, so wild, but she learns. Next to her is my full pom. I feel she might grow a little more but she was really short and stumpy as a baby. Definatly already bigger than my pom. I dont think she'll grow too much more.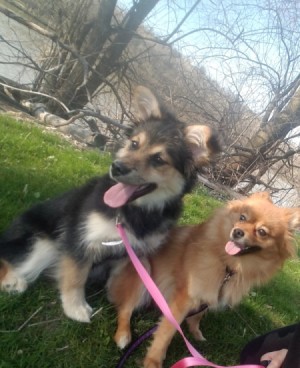 Add your voice! Click below to answer. ThriftyFun is powered by your wisdom!
Related Content
Categories
Guides
More
Categories