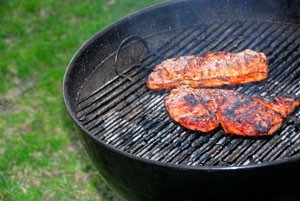 Even the simplest activities can have a substantial impact on the environment, including firing up the backyard grill. With outdoor activities in full swing, here are some tips for making those summertime barbeques green and guilt-free.
Gas vs. Charcoal
Although it doesn't offer the same flavor as charcoal, the cleanest, most energy efficient grilling option is gas grills (natural gas or propane), with electric grills coming in a distant second. The demand for natural gas and electricity certainly have environmental impacts, (offshore drilling, hydro-electric dams and coal-fired power plants), but these two options still offer the cleanest, most energy efficient way to burn fuel. Wood and charcoal burn dirty and pollute the air with tiny particles of soot that can contribute to chronic lung and heart problems.
Tips for Green Grilling
Use Organic Meats & Produce-If you don't have a whole foods store or co-op near you, most mainstream grocery stores now offer consumers at least a small selection of organic produce options. Many also offer organic condiments and marinades. Look for free-range meats that have been grass-fed or produced using certified organic feed.
Follow Food Safety Guidelines-To reduce the risk of pathogens, store food properly, keeping raw meat, fish and poultry separate from other foods and wash hands and surfaces often. Meat that appears brown in the center may still contain pathogens, so use a meat thermometer to ensure meat has been cooked to the proper temperature.

Grilled beef = 160ºF
All cuts of pork = 160ºF
Beef and lamb roasts = 145ºF
Beef/lamb steaks and chops = 145ºF
Poultry = 170ºF
Use Eco-Friendly Briquettes
No briquettes or lump charcoal is completely earth-friendly because burning either of them causes pollution. Producing wood-based lump charcoal contributes to global warming and deforestation. The lesser of two evils is using charcoal briquettes. They are usually made from sawdust, but they still contain residues of coal dust, sodium nitrate and other toxins. Avoid easy-light charcoal. The lighter fluid it's soaked in emits several volatile organic compounds (VOCs) into the air while burning.
Alternatives to commercially available charcoal are environmentally certified wood briquettes or clean-burning all-natural charcoal briquettes made from plant materials. Unfortunately, green charcoal can be difficult to source in the United States. Check with your local co-op or whole foods store.
Shop for Recycled Aluminum Foil
Mining aluminum is very resource intensive. Although aluminum is easy to recycle, most recycling centers only accept aluminum foil if it's clean and free of food. Inquire whether or not your local recycling center will accept your used aluminum foil if it's been washed after being used. If not, look for aluminum foil made from 100% recycled aluminum. It takes 95% less energy to make foil from recycled aluminum-well worth the extra cost.
Dispose of Ashes Properly
Wood ash is alkaline. It can be used in the garden like a fertilizer, but only if you're trying to neutralize very acidic soil so apply it with care. Charcoal ash contains chemical residues that are harmful to plants and should be disposed of in the garbage.
Light Your Fire Without Fluid
Chimney starters and electric probes are good alternatives to lighter fluids, which emit harmful VOCs when lit. They are inexpensive (usually $12-$15) and provide a fast, reusable, pollution-free alternative for lighting up the grill.
Reduce Risks From Charred Foods
Some studies suggest a cancer risk related to eating food cooked by high-heat cooking techniques as grilling, frying, and broiling. Current research indicated that eating moderate amounts of grilled meats like fish, meat, and poultry that have been cooked without charring does not pose a health risk. To prevent your foods from charring, precook meats in the microwave before placing them on the grill in order to remove some of the juices. Remove fats that can cause temporary flame-ups and removed any charred portions of meats before eating. Cook foods in the center of the grill and push hot coals off to the side to prevent juices from dripping on them.
Happy Grilling!
Comments
By Kit (Guest Post)
April 3, 2007
0

found this helpful
I hate using lighter fluid due to environmental concerns as well as the awful stink and taste. I learned this great fire-starting trick at Girl Scout camp: loosely fill pressed cardboard egg cartons or packaging forms (NOT styrofoam!!) with dryer lint.* Then pour melted paraffin wax (Gulf wax or other canning wax - available at most groceries) into the egg cups or forms over the lint. Leave some space at the top (about 1/4 - 1/2 inch). Once the wax hardens (freeze or refridgerate if necessary), cut or break apart the egg cups and store them in a zipper bag or waterproof container.
Toss one or two onto your charcoal or campfire and light the corner. It burns slowly, ignites the charcoal or wood and eliminates the need for pre-treated briquettes or lighter fluid.
Clean grilling!
*A note of caution: if you dry a lot of synthetic fabrics, be careful - these tend to burn faster and may release toxins into the environment. Lint from cotton jeans and bath towels works best.