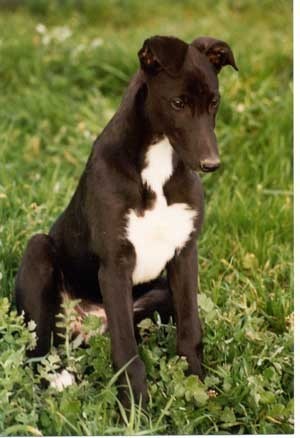 Breed Description:
Greyhounds are slim, graceful and aerodynamically built for speed. They have long, flat skulls, long sharp muzzles, deep chests and strong, powerful legs. These dogs are incredibly athletic in build, highly intelligent and independent in nature.
Group: Hound Group
Purpose of Breed: Racing
Country of Origin: Middle East
Average Size: Dogs average 28-30 inches and 65-70 pounds. Bitches average 27-28 inches and 60-65 pounds.
Color(s): Greyhounds come in all colors, either solid or multi-colored.
Coat Type: This breed's coat is made up of fine hair that is close to the body.
Grooming: This breed is an average shedder. Its short, smooth coat requires a minimal amount of brushing and can be wiped down with a soft cloth to keep it shiny. Greyhounds require standard care for eyes, ears, pads and nails.
Exercise Needs: Greyhounds are the thoroughbred horses of the dog world and appreciate the routine of running every day. They should be allowed to gallop freely at least once a day in a large, safely enclosed area. When not running, they are essentially couch potatoes-even suitable for apartment living. A fenced yard is a must, though they are not equipped to live outdoors.
Temperament: This breed is gentle and sweet. If properly socialized, they can be very friendly-even a bit over exuberant at times. Greyhounds can also be somewhat mischievous-stealing items around the house-especially food. Greyhounds are very loyal, loving and make wonderful family companions.
Common Ailments: Prone to bloat and bed sores; sensitive to insecticides.
Life Expectancy: Averages 10-12 years.
Trivia: The majority of the Greyhounds in the United States are used in the racing industry. Less than 200 a year are registered with the American Kennel Club. One of the most celebrated Greyhound owners in America was General George A. Custer, who traveled with a pack of about 40 hounds
More Information: Greyhound Club of America