~gloria
Bronze Post Medal for All Time! 104 Posts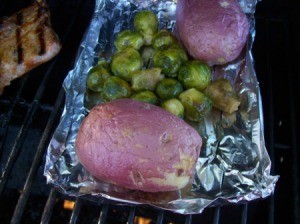 Don't have one of those special baskets for cooking vegetable on your outdoor grill? Not to worry. You can still have yummy, healthy veggies cooked right along with your BBQ meats.
Simply take a length of heavy-duty aluminum foil and fold it in half for strength. Now crimp up the sides to form a shallow-sided tray. Lay it on the grill before you light it. Then take a sharp knife and cut lots of slits in it to let the heat come through evenly. Spray lightly with cooking spray.
I microwave the veggies in a drizzle of olive oil just until slightly tender before putting them on the grill. Cook them the rest of the way, to your preference, on your foil tray. Sprinkle with spices of your choice as they cook. Be sure to turn your veggies to keep from sticking and for even cooking.
Note: You can get more than one use out of the tray if you clean it off. And don't forget to recycle it when you're finished with it.
By ~gloria from upstate NY
Read More

Comments