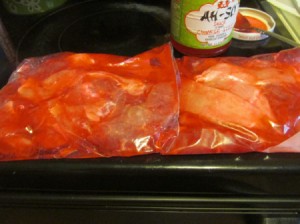 On shopping day before you freeze all your meat, you can marinate it using heavy duty freezer bags.
These marinades are for all chicken parts, pork spare ribs & lamb chops. I purchase meat when on sale in large family size packages. Rinse all meat in cold water and dry with paper towels before packaging.
For lamb chops I use an oil & vinegar Italian dressing mix. Add about a 1/4 teaspoon of each, dried dill, garlic & black pepper. Shake this very well.
Place one lamb chop to a freezer bag, with only a tablespoon of marinade. Squeeze out the air and zip. Rub each bag well to get the dressing well mixed into the meat.
For pork spare ribs I use Ah-So sauce found in most large supermarket chains. It is a bright pink sauce. Buy a piece of boneless pork spare rib. Slice it in long 1/2 inch strips, put enough in a bag for one meal.
For chicken I put 1 drum stick and 1 thigh per bag. Then pour about 3-4 tablespoons marinade in each bag. If you are left with any, finish off by adding a little extra to each bag. You can not over marinate! Juiciest chicken ever!
Instead of repackaging ground beef, all you need to do is make a deep indentation in the center of a 1 pound package of ground beef and freeze it. And when you take it out all you need to do it crack it in half and pop the other half in a baggie.
All the recipes above and all the cooking I do from my freezer. The meat goes right under cool water to remove the plastic and straight into a spray oiled dish or pan while still frozen. This starts the process of thawing. I add about 15-20 minutes to cooking time. This is not to save energy as much as it is to lock in the juices of the meats you are cooking! I have been cooking frozen meats for years. Especially roasts!
When using any of the above sticky marinades, I add a 1/2 cup of water to the bottom of the pan halfway through the cooking time. Which in most cases is 40-45 minutes, check for doneness. Then add a few minutes longer if needed!
You can give your meat marinades a little head start by pouring the marinade over the meats when you package them for freezer storage. Then thaw them in the fridge before cooking and they'll be ready to cook when you are. No more waiting or forgetting to allow for marinating time.
By ~gloria from western NY
July 7, 2009
0

found this helpful
What happens when you marinate meat in a metal pan?

By MICHELLE from PALMETTO, FL

Answers:
Marinating Meat in a Metal Pan
I don't know, but I would think that any kind of marinade with acid in it like vinegar or lemon would react with the metal. I marinate my food in a zip lock bag, place the bag in a glass pie plate, then refrigerate.
Also, you probably know this already, but throw out the marinade after you're finished. I've read that you'll have to heat the leftover marinade and cook it. But it has the blood in it. Anyway, I always throw it out.

I've also found that when I make lasagna and cover it with aluminum foil that the tomato sauce will eat into the aluminum foil. It's the acid in the tomatoes even after they're cooked. Hope this helps. (04/20/2009)

By metroplex
Marinating Meat in a Metal Pan
The food can take on a metallic taste; use glass or a Ziploc. (04/21/2009)

By Paul Larman
Marinating Meat in a Metal Pan
Chemical reaction (04/24/2009)

By Grandma J