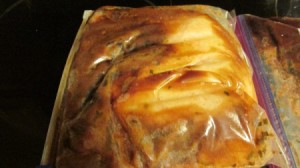 When I shop, I look for sales on family size packages of chicken, legs, thighs, quarters, and breasts. I love to make my own marinades, and this can be done before freezing your chicken.
One of my marinade recipes is:

1 cup of brown sugar
1 cup soy sauce
2 Tbsp. lemon juice
1/2 tsp. black pepper
2 tsp. ground ginger
1/2 cup water
Mix these ingredients well until the sugar is completely dissolved. Package your chicken for your meal in freezer ZipLoc bags. Add 1/4-1/2 cup of marinade to each bag. This freezes nicely, and when defrosted, it taste just like you marinated it that day.
Try using Italian, Greek or Balsamic dressing as your marinade. These are delicious, too.