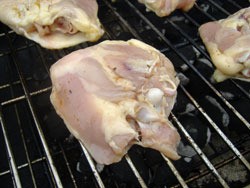 Selecting High-Quality Poultry and Game Birds
Select only high quality, fresh poultry to freeze. The tender young bird is best for roasting, frying and broiling. Choose the more flavorful older birds for braising or stewing.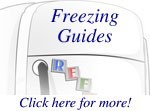 Freezing Whole Birds
Clean and dress bird if necessary. Remove giblets and liver and package and freeze them separately. Tie the end of the legs together and try to press the wings close to the body. Wrap in freezer paper or heavy duty plastic for freezing. If purchasing fresh poultry from a self-serve meat department, clean and wash bird and repackage it for freezing.
Pieces
Package cut up pieces of poultry in convenient combinations or portions sizes for freezing. Lay pieces on a baking sheet and tray-freeze until firm. Remove and package in plastic wrap or plastic bags so individual portions can be used easily. Pieces packaged together should be packed as closely as possible to eliminate air pockets.
Game Birds
Game birds such as quail, dove, duck, and pheasant should be cleaned and dressed as soon as possible after shooting. Chill and store properly until freezing. Remove excess fat on wild ducks and geese since it becomes rancid very quickly.
Cooked Poultry
Remove bones to save space and package leftover poultry in rigid containers or plastic freezer bags. Seal, label and freeze.
Stuffing
Due to a the danger of encouraging the bacteria that cause foodborne illness during thawing, poultry and game birds should not be stuffed before being frozen. Commercially stuffed frozen poultry is prepared under special safety conditions that cannot be duplicated at home.
Suitable Packaging:
Package poultry in freezer-grade plastic wrap, freezer paper, butcher wrap, or place in freezer-grade plastic bags. Store bought poultry needs additional wrapping before freezing because the clear wrap does not provide adequate vapor-resistant protection. Seal, label and freeze immediately after packaging.
Maximum Storage Times
Poultry Type
Refrigerator
Freezer at 0ºF
Chicken & Turkey (whole)
1 to 2 days
1 year
Chicken & Turkey (pieces)
1 to 2 days
9 months
Ground Turkey
1 to 2 days
3 to 4 months
Giblets
1 to 2 days
3 to 4 months
Duck & Goose
(and other game birds)
1 to 2 days
6 months
Thawing
Poultry should be thawed completely before cooking. Thaw in the refrigerator or defrost in the microwave according to manufacturer's recommendations. If poultry is in watertight packaging, it can also be thawed safely in a bath of cold water.