The above picture is of a new variety of camellia. If I am correct, it is one of a series called 'October Magic', this particular variety being named 'Orchid'.
Most camellias bloom late winter to early spring.This plant is said to bloom in fall, at a time when there is little else in bloom. I like that.
As might be expected, a new variety of anything is going to cost more than the old standbys. The original price on this 'gallon' size plant was $18.00. I saw it reduced to $2.50 and grabbed it up.
With it being a new variety, I guess there is not an overabundance of them at this time. There was only one plant in the pot.
Being greedy, I searched for more bargains. I found another marked down pot. The original price was $14.00, reduced to $2.50. In the pot was an unnamed variety of Sasanqua camellia. I'm not keen on buying unnamed varieties of anything. I made an exception in this case. There were two plants in the pot instead of one!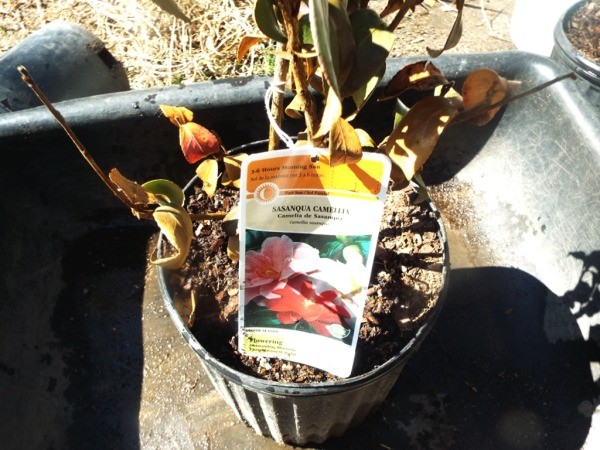 Still controlled by greed, I searched more. I found another bargain. Another camellia with the original price of $6.98 was reduced to $1.00. Should I get it? It's a shade of red I don't particularly care for. Heck, for a dollar, I can't go wrong. Not to mention, there were 5 plants in that small pot!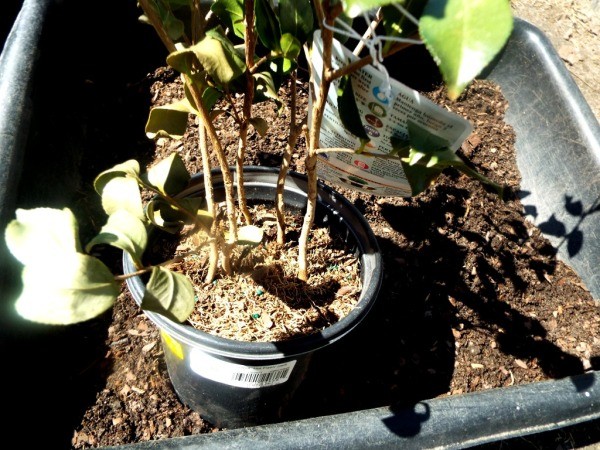 It's not uncommon to find two plants in a pot when buying shrubs these days, but five? I can't imagine what the nurseryman was thinking. Figuring the plants were pot bound, I went to work.
It took some doing to get those five plants separated. The roots were too long for the pot, even if there had been only one plant. Five plants with their roots all entangled together with nowhere to go. Sad.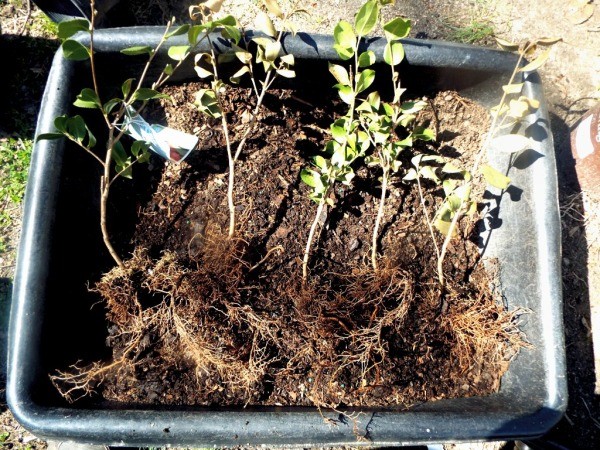 Each plant got its own pot, filled with a rich medium high in compost and fine pine bark for good drainage.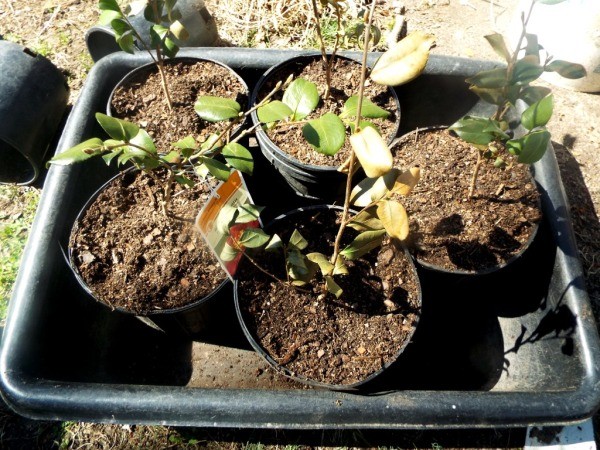 But really now, what good is a nice home for a plant if it looks as if it's going to die or looks dead already?
Two of the plants in the pot looked dead. The other three looked as if they would follow suit any day. As much as I love plants (and bargains), why bother to bring this pot home? Well, all things are not as they seem.
A long time ago, I learned a trick from the old timers. Though not foolproof, it works most of the time. I use it a lot as I buy a lot of 'iffy' plants.
When unsure if a plant is alive, use your fingernail to scrape away a tiny area of the thinnest outermost layer of the bark. If you see a rich, moist green, the plant is most likely alive. If there is no green or if the green is pale and dry looking, the plant is most likely dead. I performed this little test before I brought the pot home. I am confident all five plants will live and thrive.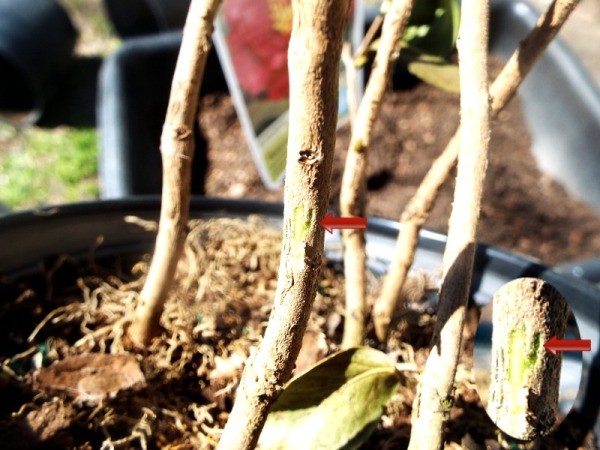 If you try this test instore, be discreet. But do know that if done properly, you will cause no harm to the plant. You are not injuring a plant someone else might buy.
So, the five Camellias in the pot were a color I didn't like. Was there any other reason not to buy the pot? Yes! Though I did buy the pot, I was turned off right away by the name of the camellia. It may as well have been named 'Menopausal Camellia' They came close when they named it 'Hot Flash".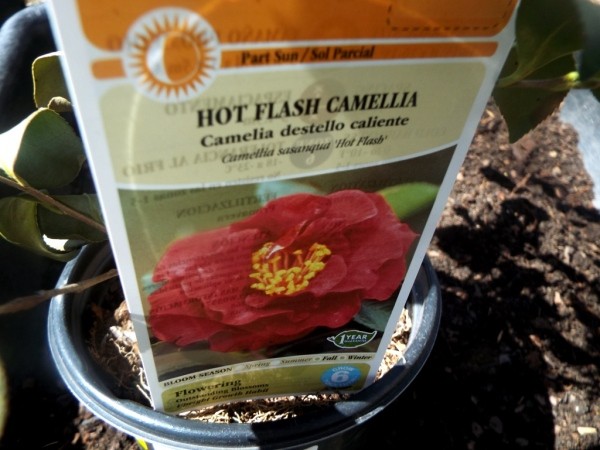 Lord, lord. Quick! Somebody find my bottle of Lydia E. Pinkham's Compound!
Oh well, I can't complain too much. A dollar for the pot. Five plants in the pot. Five plants that could live for a hundred years, bringing someone a lot of pleasure, all for 20 cents each.
Yes!