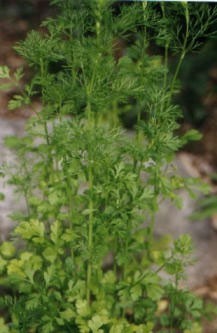 Botanical Name:
Coriandrum sativum
Common names:
coriander, Chinese parsley, cilantro
Description:
Coriander plants are one of the most widely used herbs in the kitchen. Grown almost entirely for their culinary properties, the leaves (also known as cilantro) are used in a variety of ethnic dishes (especially Mexican), and the seeds, sold both whole and ground, are the main ingredients in the curry powders used for cooking Indian dishes. Coriander grows to a height of 2 feet and produces umbel-shaped clusters of pinkish-white flowers set on top of twiggy, fragile stem and bright green, fan-shaped leaves. The leaves and flowers have a pungent scent that many people dislike and describe as a cross between lemon peel and sage.
Life Cycle:
hardy annual
Exposure:
full sun
Cultivation:
Coriander will grow in almost any type of well-drained soil. It does not grow well in humid climates and prefers sunny, dry summers with moderate temperatures. Sow seeds directly in soil in mid spring where you want it to grow. Coriander's height and structure make it suited for filling back borders or bare areas of the garden. Plants are most attractive when planted as single plants surrounded by color, or in large drifts spread across less formal parts of the garden. Coriander stems are weak and should be staked with firm, but slender supports or well sheltered from wind. Water well during dry weather to keep plants vigorous. Coriander does not like growing near fennel.
Propagation:
seeds
Parts Used:
leaves and seeds
Harvesting and Storage:
Leaves may be cut and used fresh or frozen. Collect and dry seeds when ripe (late summer to fall).
Medicinal Uses:
digestive ailments, aromatherapy
Culinary Uses:
Indian, Greek, Mexican and Asian dishes; salads
Other Uses:
ground seeds are used for incense