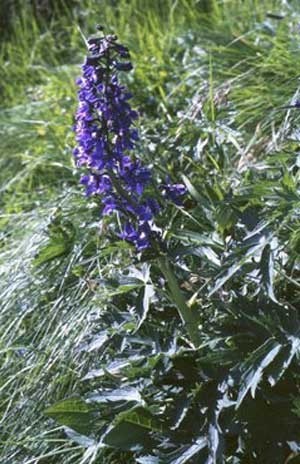 Botanical Name:
Delphinium
Life Cycle:
annual (warmer zones) hardy perennial (zones 3 to 8)
Planting Time:
spring
Height:
3' to 5'
Exposure:
full sun to partial shade
Soil:
rich, well-drained soil with a neutral to alkaline pH
Hardiness:
3-8
Bloom Time:
early summer to fall
Flower:
sky blue, dark blue, lavender, pink, and white
Foliage:
green, maple-like leaves
Propagation:
seeds
Suggested Use:
tall back borders, cut flowers, and mass plantings
Growing Hints:
Delphiniums thrive in areas with cooler summers. Start with bedding plants or sow seeds indoors in late winter. Seeds should be cold treated for two weeks before being moved to a warmer temperature for germination. Mulch plants in spring to keep the soil moist and cool. Fertilize in spring with a 5-10-5 fertilizer and repeat during flowering. Stake in late spring when plants reach a height of 12 inches.
Interesting Facts:
Delphiniums appreciate moist soil, but hate wet feet. To avoid crown rot, mound up soil around roots of each plant so soil slopes away from the stems, or plant in raised beds.