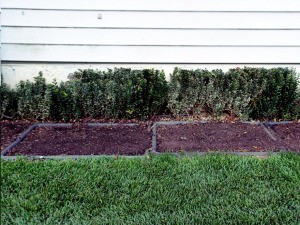 I did a previous post on using Euonymus fortunei Emerald Gaiety as a foundation planting. My last picture in the post left you looking at some tiny Euonymus plants I had rooted. It also showed a dead Bermuda lawn. (I killed it). The picture can be seen here: Euonymus
Today, I ripped out my dying pansies in preparation to planting summer flowers. With my sunken tubs bare, I realized just how much the Euonymus had grown.
I remember stating in the last post that within two years the Euonymus should have covered the foundation wall. This post is to show just how much it has grown in one year.
I have already trimmed it once as it was getting higher than the wall. I also trimmed it to help it fill out more at its base. Not bad for one year's growth. I love this stuff.
And of course, this post gives me another opportunity to show off my beloved Falcon Four grass. Yes!
It'll be a cold day when I plant Bermuda, again!