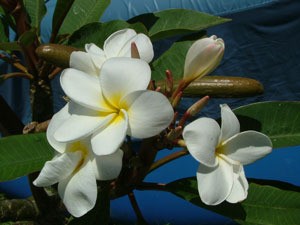 Plumerias are fun and easy to grow! Known as the Hawaiian Lei Flower, they can be both fragrant and beautiful. Look around as you drive or walk in your neighborhood - if you spot a plumeria tree or bush, politely knock on the door and ask if you could have a cutting. Never cut without permission.
Plumerias require well draining soil and can not get frost at all. They grow easily from cuttings. If you live in an area where it freezes, you can just bring the plant inside for winter.
When there are lots of blooms on your plumeria, you CRAFTY THRIFTY FUN-ERIANS can enjoy stringing them into fragrant, beautiful leis.
By Nancycorinne from Los Angeles, CA
Read More Comments