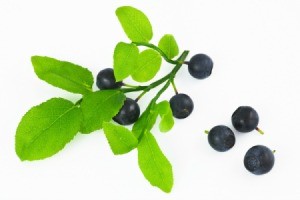 I got a free packet of huckelberry seeds and neither I or my mom know what they are. The packet says solanum melanocerasum- garden huckelberry. Can someone tell me what they are and what it is good for?
pakjc
Answers

January 23, 2005
0

found this helpful
Hope this helps!! :-)

Huckleberry, Garden -- Solanum melanocerasium All.1
James M. Stephens2
Garden huckleberry (S. nigrum var. quineense; also S. melanocerasum All.) is an edible form of the common nightshade weed plant. Garden huckleberry is also known as quonderberry, wonderberry, sunberry, moralle, morella, petty morel, solanberry, black berried nightshade, and houndsberry.
Since garden huckleberry is a member of the Solanaceae (nightshade) family and a close relative of the common nightshade (S. nigrum L.), there often is some confusion. Common nightshade is also called black nightshade, poisonberry, garden nightshade, and sometimes deadly nightshade.
Whereas common nightshade is reported to be poisonous, the garden huckleberry appears to be relatively safe. They should not be confused with the true deadly nightshade, S. dulcamara L. and Atropa belladonna L., both having very poisonous levels of alkaloids.
DESCRIPTION
The garden huckleberry plant resembles a sprawling, 2&frac; foot tall bell pepper bush. Its leaves are pepper-like, from 3-7 inches long, pointed, and medium green. The leaf stems are 1-3 inches long. Clusters of about six small white flowers are borne along the main stems, followed shortly by &frac; inch in diameter berries that are green when immature and black when mature, resembling wild huckleberries. Berries are filled with a greenish pulp, mixed with small pale yellow seeds.
USE
Berries are eaten when ripe and sometimes unripe. They have the flavor of a bitter tomato. Berries are used for making preserves, pies, or cooked dishes. Leaves are reported to be high in methionine, with a total protein content of 4-6%. They are cooked and eaten as a potherb.
CULTURE
Garden huckleberry has been grown in gardens successfully all around Florida. In garden demonstration trials at Gainesville, plants were seeded in September and yielded hundreds of ripe berries from late October through November.
Garden huckleberry should be grown much like a pepper plant. Sow seeds about 1 inch deep at a time that will allow the plant to grow and mature in warm weather since it is susceptible to cold injury. Space plants 12-24 inches apart. It may be transplanted and a start may be obtained from a cutting. Mulch such as black plastic is useful in its culture, but not necessary. Pests were not a problem in the Gainesville trials.

January 23, 2005
0

found this helpful
Huckleberries are sometimes called "the poor man's blueberry" - I find that the seeds prevent them from being used for pies or muffins, though. However, they make wonderful jam. They freeze well; just wash, let dry and put in plastic bags. Two cautions: Don't pick them until completely ripe (they will be black and will come off the plant easily), and be careful handling them - the juice will stain countertops and hands!
I believe huckleberries were used by the native Americans as a dye. Allow plenty of room when you plant them - they grow to be a rather large bush. Enjoy!

January 23, 2005
0

found this helpful
Solanum melanocerasum
"Garden Huckleberry"
"Sunberry"
Another unusual Solanum for you rare fruit growers! Originating in Africa, "Garden Huckleberry" grows to 3 feet tall and resembles a pepper plant. Each plant bears hundreds of 1/2 in to 3/4 in, dark purple - almost black - berries all Summer long. Though usually grown here as an ornamental, the fruit is edible when cooked & sweetened. The fruit is harvested when it turns from glossy to dull. Easy! Good soil is best.
Sun Avg. water
Annual

January 23, 2005
0

found this helpful
" Huckleberries are sometimes called "the poor man's blueberry" - I find that the seeds prevent them from being used for pies or muffins"
Huckleberries make excellent cobblers, pies, & muffins. They are the wild form of the blueberry, but are much more flavorful. I grew up picking huckleberries off bushes in the woods and eating lots of cobblers made from them.
P.S. Native Americans also used poke berries for dye. The juice stains and does not come off with soap and water!
By Frank Blissett (Guest Post)
May 6, 2005
0

found this helpful
Just a couple clarifications here.
First, the Garden Huckleberry is NOT in any way related to the blueberry. Blueberries, Bilberries, and Cranberries are in one family and the nightshades are in another family all together.
There is also a lot of confusion about the "Wonderberry" - quite justified though. About a century ago, Luther Burbank introduced a hybrid using the garden huckleberry and another edible nightshade, naming his creation the Sunberry. To his consternation, the distributer decided to rename the plant Wonderberry, and to his further frustration other nurseries started selling Garden Huckleberries under the name Wonderberry. (To further add to the confusion, you will sometimes see Wonderberries sold as Huckleberries.)
FYI, the name scientific name given to the Wonderberry by Burbank was Solanum burbankii
By Becky (Guest Post)
May 18, 2005
0

found this helpful
Can anyone tell me how to grow Solanum Melanocerasum. I've seen lots of info about where they come from etc etc but nothing which tells me how long the plants live and the sorts of conditions they like to live in. I remember picking Huckleberrys as a kid in Canada but the packet of seeds I have says they come from Western Africa. Can anyone help.
By guest (Guest Post)
July 24, 2005
0

found this helpful
The biggest trick about huckleberries is that they do not taste much like blueberries at all..... until you cook them. Then they taste more like blueberries than real blueberries. Strange but true.
We pick the black huckleberries found in the higher elevations and freeze the results in small sandwich bags that we hoard throughout the year, making huckleberry pancakes and muffins.
They grow in clusters almost like grapes but more like pokeberries, so don't bother picking them until they are completely ripe so you can just strip the cluster with one quick pulling movement and do not have to pick a bunch of unripe ones out of your haul when you get home.
By Jennifer (Guest Post)
February 14, 2006
0

found this helpful
I am looking for a wine recipe using the garden huckleberry. Anyone have a good one?
By stacey clark (Guest Post)
June 24, 2007
0

found this helpful
I grow the solanum melanocerasum- garden huckelberry all the time. What a great plant. I make an ice cream sauce that has the most beautiful color I have ever seen and taste is yummie. Better than blueberry. They are easy to grow. I start them in March in a soiless mix under lights. It take a while to germinate but eventually does. I transplant them when they are about 2" tall to 4" pots. I then transplant to garden when ALL frost is sure to be gone. I watch them grow and grow and produce berries. Who needs to go blueberry picking any more. I can grow as many as I need for the winter.
Answer

this Question

Hello everybody!
I am a Doctor of plant health students in Hungary (plant genetist esp.). I've a great, a horrifing problem! I'm looking for Solanum Melanocerasum seeds but still have not found any. If somebody has seeds from one or knows where I can get some, please let me know. It is very urgent!
Thank you for the help in advance,
Guanin From Hungary!
Answers

Monique
Bronze Post Medal for All Time! 124 Posts
May 18, 2005
0

found this helpful
Try this site Guanin. You can click on the link BUY SEEDS. I hope they ship to Hungary.
Good Luck.
Monique x
By BJ,Ky (Guest Post)
May 19, 2005
0

found this helpful
There is a website called RareSeeds.com They sell the seeds you are looking for.There are 35 seeds in a package & sell for $1.25. Hope this helps
By (Guest Post)
April 13, 2006
0

found this helpful
You can get some from Burgess seed and plant company
By Susan (Guest Post)
April 23, 2006
0

found this helpful
Burgess Seed & Plant Co. sells them also.
By Nina (Guest Post)
March 30, 2007
0

found this helpful
I just purchased seeds from seedsavers.com.
By Anna (Guest Post)
June 12, 2008
0

found this helpful
Try an online search for the "burgess seed & plant co." I got a free pack of huckleberry seeks when I made a purchase at www.FarmerSeed.com.
By (Guest Post)
June 12, 2008
0

found this helpful
Guanin From Hungary, I have a package that I can send you, my Hungarian brother. Debbie
Read More

Answers