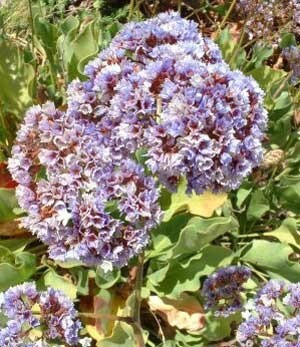 Botanical Name:
Limonium
Life Cycle:
perennial
Planting Time:
spring
Height:
2 1/2' to 3'
Exposure:
full sun
Soil:
average to rich, well-drained soil with a neutral pH; salt tolerant
Hardiness:
zones 4-11 depending on variety
Bloom Time:
spring and summer
Flower:
variety of colors in large, dense clusters of papery blooms
Foliage:
gray-green
Propagation:
seeds, cuttings, and division
Suggested Use:
beds, borders, seaside gardens, cut flowers, and dried flowers
Growing Hints:
Start seeds indoors 6 to 8 weeks prior to last frost date or sow directly outdoors in spring after danger of frost has passed. Plants may be divided in the spring or cuttings can be taken when dormant in mid-winter and grown in pots indoors or in a cold frame until transplanted in the spring. Statice is easy to grow and makes an excellent choice for use in fresh or dried flower arrangements.
Interesting Facts:
Statice is resistant to deer.