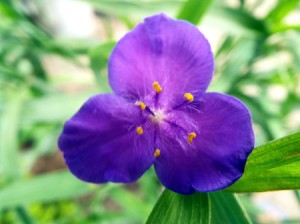 Shown is a Tradescantia pallida, sometimes known as spiderwort or Wandering Jew. It is just beginning it's yearly bloom period. Given to me without a variety name, I have grown it for several years, now.
This flower will always have a place in my garden due to it's many advantages. It is a perennial and winter hardy, at least in my zone 7.
It requires very little care. Making sure the soil stays moist during it's growing period, an annual feeding, and removing dead foliage after first hard frost is about all that is necessary. I have seen no signs of pest or disease damage to this plant.
Tradescanthia is not highly invasive, but it does multiply to the extent it is best kept in containers. When grown as a house plant, it has been shown to be better than most at cleaning indoor air.
My favorite advantage of this plant is that it will thrive in shade. I sink pots into the ground with pot tops level with surrounding soil. I can pretty much forget about them except for admiring their beauty.
When the pots have become crowded, I lift them and divide the plants. More for me and more to give away. These plants can tolerate a lot of sun, though scorching mid day sun should be avoided. They look good on porches and patios when grown in decorative containers.
Several cool colors are available. For the sake of variety, I plan to buy other colors and have some pots with a mixture of shades.
Tradescantia pallida, an excellent choice for a pretty, practically carefree flower which does well in shade or moderate sun light and rewards you with color all summer long.