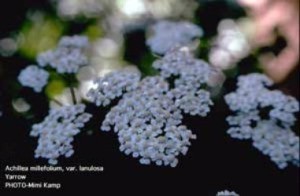 Botanical Name:
Achillea millefolium
Common names:
yarrow
Description:
A common roadside plant found throughout North America, yarrow is valued for its medicinal properties and for its use in cosmetics. Its colorful flat flower heads are 2 to 6 inches across and come in a variety of colors perfect for dried and cut flower arrangements. Yarrow's foliage is a feathery green-gray and has a pleasant aromatic smell when crushed.
Life Cycle:
perennial
Exposure:
full sun
Cultivation:
Start with purchased plants or sow seeds indoors in early winter if you want plants to flower the first year (they can take a year or two to establish themselves from seed). Plants are not picky about soil and tolerate dry conditions. Deadhead flowers to prolong blooming period and divide them every 3 to 5 years in the spring or fall if they get crowded. Propagate from seeds, by root division or from woody cuttings taken in autumn or spring. If left unchecked, yarrow can quickly become invasive.
Propagation:
division and seeds
Parts Used:
leaves and flowers
Harvesting and Storage:
Cut flowers will last longer if yarrow is picked when about half the buds in the clusters have opened. Add them to a vase with 2 to 3 inches of water in the bottom. If you plan on drying them, don't replace the water in the vase once it's gone-the flowers will dry right in the vase.
Medicinal Uses:
fevers; colds and flu; digestive aid; stops bleeding; aids in circulation; lowers blood pressure; avoid large doses when pregnant
Culinary Uses
salads
Other Uses:
beds, borders, cut flowers; wreaths; insect repellant; skin care