Growing and Using Catnip (and Cat Grass)
Solutions
Share on ThriftyFunThis guide contains the following solutions. Have something to add? Please share your solution!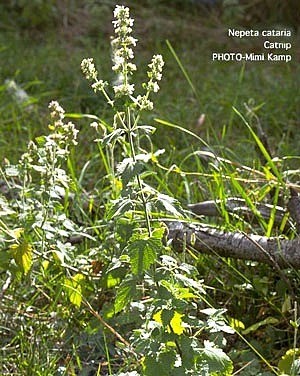 Botanical Name:
Nepta cataria
Common names:
Catnip/Catmint
Description:
This is the type of catnip that is most often used to fill those aromatic toys that cats go crazy for. It has soft, gray-green leaves that release a mint aroma when crushed, and mauve or white flowers on shoots 24 to 36 inches in height.
Life Cycle:
hardy perennial
Exposure:
full sun
Cultivation:
Catnip will grow readily from seeds in any type of soil. If you don't want it trampled, you'll need to protect it with wire or mesh to keep cats away. Avoid planting along paths and walkways because this herb attracts bees. Propagation is easy by division in early spring unless a large number of seedlings are needed, or sow seeds directly into the ground in the spring or fall.
Propagation:
basil cuttings (spring), division (spring), and seeds
Parts Used:
leaves
Harvesting and Storage:
Harvest fresh leaves as needed. Dry leaves by cutting off stems and hanging them upside down to dry. Store in airtight containers.
Medicinal Uses:
Catnip contains medicinal properties that when made into a tea may be used for treating coughs and colds and insomnia.
Culinary Uses:
use sparingly in salads.
Other Uses:
perennial border, edging, skin and hair care and used for causing moments of euphoria in cats.
March 22, 2003
1

found this helpful
Spring is here! My tomatoes are up 4 inches and my catnip is just starting. Catnip is a plant that the West Nile mosquito is allergic to. I protect my family all I can - pills to build up the immune system and non smell repellant. Throw some catnip on the bar-b-que. All makes a safe place for outside family time fun!
Catherine Forman
0

found this helpful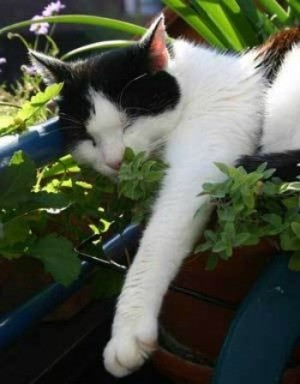 Cats are carnivores. That means the bulk of their dietary needs are satisfied by eating meat.
Felines in the wild get carbohydrates and plant matter from eating their prey's fur or feathers and stomach contents. Domestic cats usually get all the fiber, vitamins, and minerals they need from commercial cat food. If your cat grazes on grass in the yard or nibbles on your houseplants, they may be seeking vitamins and minerals or they may be looking for an aid for an unsettled stomach. Dogs too will eat grass to help balance an upset tummy, either to firm up loose stool or as an aid in easing constipation.
Catnip is notorious for producing a particular response in cats. Although this member of the mint family is chemically similar to some hallucinogens, catnip is not toxic to pets. Rubbing catnip on a favorite toy or scratching post will lead to several minutes of playful abandon in your cats. The scent of catnip can help stimulate exercise in a usually sedentary cat.
Cat grass aids digestion and even helps remove hairballs! If you grow cat grass indoors, you can avoid the potential dangers of pesticides and other contaminants on outdoor grass. Offering sweet tasting cat grass will help keep your kitties from nibbling on your other houseplants. It can also help sweeten your cat's breath.
Catnip and cat grass are relatively easy to grow. Cat grass will thrive in just about any sunny window. You can purchase plants or seed online or at your local pet store. Catnip does well in gardens and needs little care. Most members of the mint family need more water than catnip does. Pretty much all you need to do once the seeds are planted is thin the rows and keep the weeds at bay. A bed of catnip can last several years! You can dry the leaves in your oven.
Questions
Ask a QuestionHere are the questions asked by community members. Read on to see the answers provided by the ThriftyFun community or ask a new question.
I bought the catnip seeds and planted them 3 weeks ago and I haven't seen any sprouting. I was doing this procedure that I found on the net. I put 2 inches of potting soil, then I pushed down the seed very gently and covered with a little bit of soil. I watered them twice a day. Kept them covered with the plastic to keep the moisture and placed the pots not directly to the sunlight.
Like I said before nothing has came out the soil. Please help me out.
By Roger from Caracas-Venezuela
Answers
March 18, 2011
0

found this helpful
If you still have the seed packet, check the packing date, you may have old seeds that won't grow. If they are supposed to still be viable take them back to where you bought them and ask for another pack. Be sure to show them how you tried to grow them. Also was the potting soil fresh? If you were trying to re-use old potting soil that could have been the problem, you also might want to try a seed starting mix instead of regular potting soil, sometimes that is too heavy for seed starting. Without knowing all the veriables it's hard to say exactly what went wrong, but these are some starting off points.
March 19, 2011
0

found this helpful
I don't know about growing catnip from seeds. But I bought 3 small plants several years ago and they come up every year. In fact, my catnip is already up and I just came in from some yard work and brought my 3 kitties a treat.
Answer

this Question

...
June 27, 2014
0

found this helpful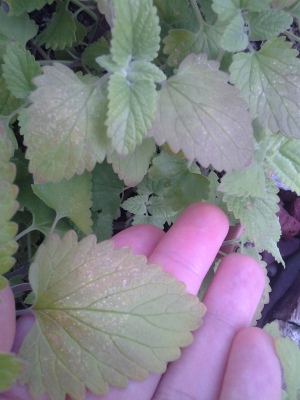 I have a catnip plant and the tips of the branches have turned red. I know plants turn red sometimes because of a lack of nutrients or sunburning. But could it just be because of too much fertilizer or compost?
By Carmen
Answer

this Question

...
March 18, 2012
0

found this helpful
I was in my garden and I wanted to know is catmint edible?
By E. H.
Answer

this Question

...
Archives
ThriftyFun is one of the longest running frugal living communities on the Internet. These are archives of older discussions.
March 15, 2011
0

found this helpful
Question:
Would it be possible for me to grow catnip inside in the winter, so I could have a fresh supply for my cats all year round? And if so, what would be the proper procedure. Thank you so much for your advice.
Hardiness Zone: 5a

Linda from Sigourney, Iowa
Answer:
Linda,
Catnip (catmint) is pretty easy to grow indoors as long as it gets enough light. When growing outdoors, catmint will tolerate a bit of shade. Indoor light is much less intense, so a southern-facing window will work best. To start seeds, mix two parts sterilized potting soil and one part coarse sand, perlite, or vermiculite in a small pot. Sow seeds on top of moistened growing medium and press them into the soil just slightly. Cover the top of the pot with a plastic bag or the top half of a soda bottle (lid on). Place the pot in a warm, bright location out of direct sunlight. Catmint needs 60ºF to 70ºF temperatures to germinate. After about 7 to 10 days you should see some sprouts. As soon as the sprouts sport their first set of leaves you can remove the plastic cover and move the pot to a sunny window. Indoor air is usually dry, especially in the winter, so be sure check soil moisture levels daily and be sure to keep the seedlings moist (not wet). Catmint can be grown in pots year round, but they'll grow best if you set them outside for the summer. Plants can be pinched back as they grow to encourage a full shape. If you decide to transplant catnip into the garden for the summer, bury the entire pot in the ground. Mint spreads rapidly and it will take over if not kept in bounds. Bring herbs inside again before a hard frost. Catmint grown in pots can be maintained by periodic light feedings and occasional repotting. Harvest fresh leaves as needed for your kitties. Dry leaves by cutting off stems and hanging them upside down to dry. Store them in airtight containers.

Ellen

About The Author: Ellen Brown is our Green Living and Gardening Expert. Click here to ask Ellen a question! Ellen Brown is an environmental writer and photographer and the owner of Sustainable Media, an environmental media company that specializes in helping businesses and organizations promote eco-friendly products and services. Contact her on the web at http://www.sustainable-media.com
Answers:
Growing Catnip Indoors
If you have some already growing outside just pot it up and bring it in. Mints are hard to start from seed. If you don't have any growing then get a start from a greenhouse or plant store.
Mint likes a lot of light, but otherwise it's pretty hardy. It will be hard to keep the cats out of the plants so you might want to put them in plant hangers.

By the way it makes a great tea for you too. It is calming to the nerves. Crush a handful of leaves and pour boiling water over them and steep for about 5 minutes. Strain and enjoy, with or without honey for sweetness.
(10/23/2006)

By Carla
Related Content