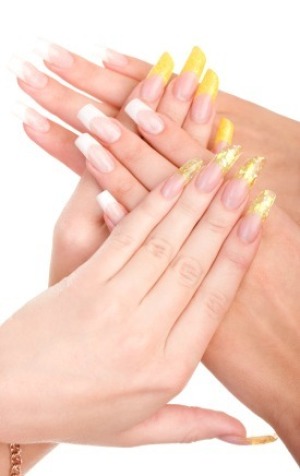 When I was a surgical assistant, my hands used to get very dry from the surgical scrub and powder from the gloves. This is a trick I learned that works great to make your hands feel wonderful! You will be amazed at the results, however temporary they may be.
Mix in your palm one each of the following:
1. Something oily (vaseline, olive oil, baby oil, etc)
2. Something grainy (sugar, salt, etc)
3. A touch of liquid soap (hand soap, dish soap, shampoo, etc)
Now wet your hands and simply rub your hands gently together (as if you are washing them) for a minute or so, then rinse with warm water. Be gentle! Finally, follow with the lotion of your choice. Your hands will be silky smooth!
By Leann D
Read More

Comments

What is the best way to remove auto grease from hands/nails?

Wasco from Sacramento

Answers

November 18, 2008
0

found this helpful
The mess is actually dirt or burned carbon in the grease/oil.
Avon Skin-So-Soft is a gentle option that works really well.
WD-40 is fish oil based and works well.
Lava soap has pumice to scrub/grind the grease out.
And then there is simply time.

November 18, 2008
0

found this helpful
We use a product called Fast Orange, which is a combination of pumice and citrus. You might try a little lemon juice and soap.
By Damo (Guest Post)
November 18, 2008
0

found this helpful
If you have no product to hand then try some liquid dish soap and a tablespoon of sugar. You'd be surprised how well this works. Use as little water as possible until it is time to rinse.

November 18, 2008
0

found this helpful
We usually just use dish soap and salt.
By (Guest Post)
November 18, 2008
0

found this helpful
Believe it or not use cold cream. Buy a large jar of cheap cold cream. Put a generous amount on your hands and rub all around like you are washing your hands. You can leave on for a minute or two. Then the grease will come right off. Your hands will be soft and clean.
You do not have to use an abrasive soap. You can wash your hands with regular soap afterward but do not need to. I learned this in my 9th grade science class. the fat in the cold cream dissolves the grease which is also a fat. Cathy from MA

Cyinda
Bronze Post Medal for All Time! 213 Posts
November 18, 2008
0

found this helpful
Grease or oil removes grease... Just pour a bit of cooking oil on to your dirty hands & rub it all around then add a small squirt of dish soap or shampoo & then rub this around too... Now just rinse this all off with warm water & you'll have the cleanest & softest hands on the block! If you work on cars a lot, it pays to keep a small bottle of cooking oil & dish soap next to the outside water spicket during the warmer months, this way you can wash the gunk off before you enter your home!
* To save money, you can store "already used" cooking oil for hand cleaning in a container, but any type of oil will work, baby oil, mineral oil, Crisco, Wesson oil, even motor oil & also peanut butter, lanolin & some hair conditioners will work because oil removes oil, but don't forget to add the squirt of dish soap!
---> But if all this oil business sounds a bit messy, just buy that "Goop" hand cleaner stuff they sell at the dollar store, it works like a charm! I keep it on hand by my washing machine to remove spots & stains from the laundry before washing.

November 19, 2008
0

found this helpful
There's a tub of stuff called Goop. It's fantastic... we use that a lot or we mix some baking soda and dishwashing liquid and use that with NO WATER... then rinse with warm water.
a nail brush can help too.
I just worked on my car today, as a matter of fact, and used the dishsoap and soda trick. No grease left on me!

(Guest)
Gold Post Medal for All Time! 846 Posts
November 19, 2008
0

found this helpful
As per a dear friend who has owned a mechanic shop for three decades, yep, good old fashioned 'Goop' :-)
By jen (Guest Post)
November 19, 2008
0

found this helpful
I just use ordinary dish soap. I little dab goes a long ways!

November 19, 2008
0

found this helpful
I wear gloves, latex exam gloves, and only one or two fingers get dirty. Then I put on the Goop and a new pair, wear it for an hour while..well, online..and then scrub it off.
It almost all rinses off.
Read More

Answers
Tips for cleaning your hands, post your ideas.

Answers

May 3, 2005
0

found this helpful
I can't take credit for this, I read it in one of my Gardening Magazines, but it works great! If you are like me and dig around in the soil with no gloves on? To get you hands and nails super clean, just wash them in some OXI Clean. It does not dry your hands out any more than regular soap, and I always use a bit of hand lotion after I wash my hands anyway! Hope this works for you as great as it does for me.
By Rosa
By Leona (Guest Post)
May 3, 2005
0

found this helpful
Like you I don't like to use gloves when I garden.
What I do is, before I go out I scratch my nails into a bar of soap.When I'm done I just wash up and no scrubbing my nails.

May 4, 2005
0

found this helpful
While visiting my dad, I noticed a bar of good old fashioned Lava soap in the bathroom. Lava soap followed by a good moisturizer works well.

July 26, 2005
0

found this helpful
An easy way to clean up outside, AND use up soap slivers is to put them in a knee-hi or stocking and tie it near the end of your hose or spigot.
The soap goes through-no problem, and doesn't have to sit and make a slimy mess anywhere!
By Elizabeth K

July 28, 2005
0

found this helpful
I use the Orange hand cleaner you see in the automotive section. In fact , its the generic version. It comes in a huge(gallon) bottle with a pump and its around $6. I have been using this same jug for about 2 years, and i farm and garden all year long so its been used alot. But it works and smells good.
By Doodle (Guest Post)
December 3, 2005
0

found this helpful
I do not know about oxi but what I do know is what lies in my kitchen. I hate gloves and like to get my hands dirty so after gardening i squirt some Realemon Juice on my hands and nails and rub in water them then use ordinary soap the effect is INSTANT "It works like a charm"
By Becky (Guest Post)
April 19, 2006
0

found this helpful
Just because it was the only thing I had, I used the Realemon. It was amazing!! It even got the soil out of the cracks on my fingers. Thanks for the great solution!!

Kelly
Bronze Feedback Medal for All Time! 233 Feedbacks
April 19, 2006
0

found this helpful
I found on a post under "homemade goop" grate regular bar soap and mix with an equal amount of borax. Put in a shaker (or I use an old single serve yogurt) Water on hands and rub it in! They sell this next to the hand cleaners as Borateem (or similar in name) for a dollar. I made up the same amount for 20 cents!
By Rosie (Guest Post)
November 22, 2008
0

found this helpful
I wear rubber gloves for gardening. They are waterproof and keep your hands clean. They make your hands sweat. This conditions dry hands.
Read More

Answers