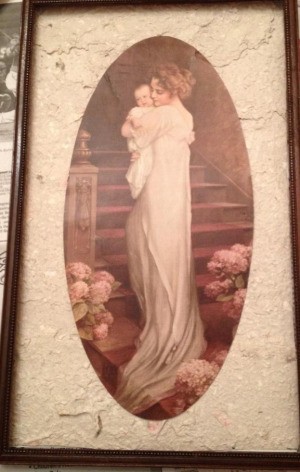 Have you ever made hand-made paper, and then wondered what to do with it? My husband bought me a paper-making kit years ago, and at first, I decided to use old Christmas wrapping paper rather than recycling. (I was learning, okay?)
I didn't realize that the colors would all run together and make a nice muddy mess that looked like a wasp nest.
So, I tried again, using white paper with only a little color mixed in. This turned out nicer, but I didn't really know what to do with it, so I put it in a crafts-to-do box and forgot about it.
I needed some matting to display some of my cousin's beautiful artwork that she used for Christmas cards, and found that the handmade paper worked just fine. Then, recently, while going through all the stuff that came to us while my in-laws were moving, I found a beautiful print, probably from a magazine in the 40s, of a mother and child. It was stuck on old construction paper, there was no glass, and the frame was pretty beat up.
I fell in love, so I repainted the frame and put a coat of polyurethane on it, my husband cut some glass (he's a stained-glass artist), and I used pieces of the hand-made paper to give the illusion of a mat. I floated the picture on top of the paper, repaired a few tiny tears with a Sharpie, and now it's hanging beside the grandfather clock my in-laws gave us.
I showed it to my mother-in-law, and she said her mother had given it to her, maybe before my husband was born in 1950. She hadn't seen it in years, she said. I wanted her to see how we'd decorated around their clock, which was their Christmas gift to each other in 1980, and she'd always been so proud of it.
I think it's beautiful, and I almost wish I hadn't given the paper-making kit away. It sort of looks like the picture is mounted on stone.