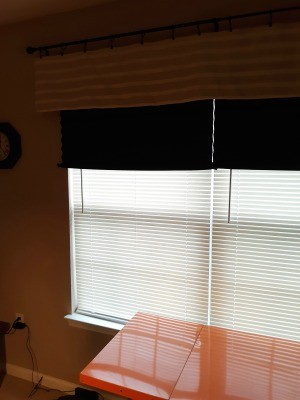 You have probably seen those temporary paper accordion shades in your home improvement store. They are great while you are planning permanent window treatments in a newer home, but they come with a caveat about using on delicate surfaces and freshly painted walls, as they are hung with double faced tape. My tip is how to install them without damage when you are removing them.
I am using these paper shades in their blackout style to keep the sun and heat out of a west facing room. It's a thrifty solution for the time being; I bought 2 blinds for $6.50 each. Mine will be more or less permanent, but I still wanted the option of easy removal. They are installed between a set of miniblinds and a valance. Mine will be tucked up out of sight behind the valance until the sun comes around, secured with side clips which are usually included.
My windows are 36 inches wide, and lucky for me, the blinds are too. They are, however, easily trimmed if you need a smaller size. Instead of hanging directly on the wall (for an exterior mount) I stuck the blind onto a new yardstick. I then used Command strips (the kind made for hanging pictures and posters) into the back of the yardstick and placed the stick and blind over the window. Now if I ever want to remove these blinds, all I have to do is pull the tabs from the Command strips, leaving my wall damage free!