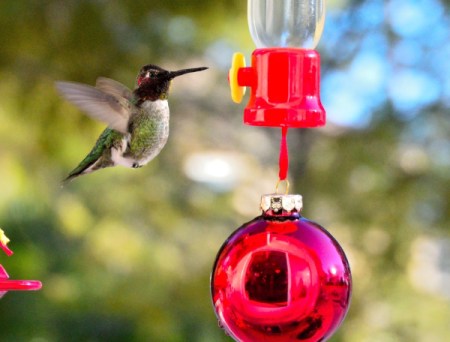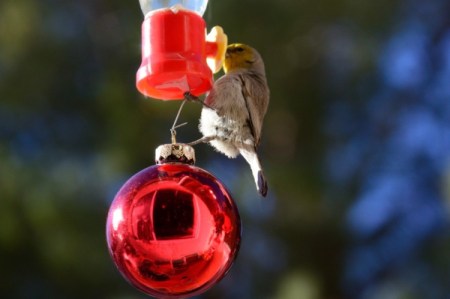 Photo Description
I love to share the holiday spirit with our backyard feathered friends too.
Every year I tape red colored ornaments to the underside of the hummingbird feeders, and it seems by their behavior, they love it too!
They get excited probably by the "extra red colors" since that's their favorite color, but in a way it also seems like they know something is different and joyous by the body language they display.
Like this little hummingbird we call Blue-Eyes. He's all puffed out and precious looking because he's so happy it seems by the way he's approaching his feeder. They know when anything at all is different.
I've read also that hummingbirds will sometimes decorate the outsides of their nests with tiny paint chips they may find, so several years ago, I figured it couldn't hurt to sort of decorate their feeders during the holidays!
And, lots of other species of birds love the ornaments too, as they can hang from them and get their sugary drinks also - like this little bird with his feet gripped on the ornament.
He's no hummingbird, but, his family loves sugar water too, just like the hummingbirds do. He just has a bit more of a difficult time trying to drink from the hummingbird feeders because he can't fly and hover as they do.
He's a baby Verdin bird. We call him, Vern Jr.
But one thing for sure, it's fun to include the little guys with some of what's going on in the house *the decorating* during this wonderful time of the year.
Photo Location
This picture was taken in our backyard, Las Vegas NV where we have hummingbirds all year long.
Add your voice! Click below to comment. ThriftyFun is powered by your wisdom!
Add your voice! Click below to comment. ThriftyFun is powered by your wisdom!