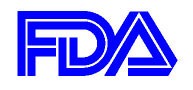 The U.S. Food and Drug Administration (FDA) today warned consumers to avoid using tubes of toothpaste labeled as made in China, and issued an
import alert
to prevent toothpaste containing the poisonous chemical diethylene glycol (DEG) from entering the United States.
DEG is used in antifreeze and as a solvent.
Consumers should examine toothpaste products for labeling that says the product is made in China. Out of an abundance of caution, FDA suggests that consumers throw away toothpaste with that labeling. FDA is concerned that these products may contain "diethylene glycol," also known as "diglycol" or "diglycol stearate."
FDA is not aware of any U.S. reports of poisonings from toothpaste containing DEG. However, the agency is concerned about potential risks from chronic exposure to DEG and exposure to DEG in certain populations, such as children and individuals with kidney or liver disease. DEG in toothpaste has a low but meaningful risk of toxicity and injury to these populations. Toothpaste is not intended to be swallowed, but FDA is concerned about unintentional swallowing or ingestion of toothpaste containing DEG.
FDA has identified the following brands of toothpaste from China that contain DEG and are included in the import alert: Cooldent Fluoride; Cooldent Spearmint; Cooldent ICE; Dr. Cool, Everfresh Toothpaste; Superdent Toothpaste; Clean Rite Toothpaste; Oralmax Extreme; Oral Bright Fresh Spearmint Flavor; Bright Max Peppermint Flavor; ShiR Fresh Mint Fluoride Paste; DentaPro; DentaKleen; and DentaKleen Junior. Manufacturers of these products are: Goldcredit International Enterprises Limited; Goldcredit International Trading Company Limited; and Suzhou City Jinmao Daily Chemicals Company Limited. The products typically are sold at low-cost, "bargain" retail outlets.
Based on reports of contaminated toothpaste from China found in several countries, including Panama, FDA increased its scrutiny and began sampling toothpaste and other dental products manufactured in China that were imported into the United States.
FDA inspectors identified and detained one shipment of toothpaste at the U.S. border, containing about 3 percent DEG by weight. In addition, FDA inspectors found and tested toothpaste products from China located at a distribution center and a retail store. The highest level found was between 3-4 percent by weight. The product at the retail store was not labeled as containing DEG but was found to contain the substance.
DEG poisoning is an important public safety issue. The agency is aware of reports of patient deaths and injuries in other countries over the past several years from ingesting DEG-contaminated pharmaceutical preparations, such as cough syrups and acetaminophen syrup. FDA recently issued a guidance document to urge U.S. pharmaceutical manufacturers to be vigilant in assuring that glycerin, a sweetener commonly used worldwide in liquid over-the-counter and prescription drug products, is not contaminated with DEG.
FDA continues to investigate this problem. If FDA identifies other brands of toothpaste products containing DEG, FDA will take appropriate actions, including adding products and their manufacturers to the import alert to prevent them from entering the United States.
Consumers can report adverse reactions or quality problems experienced with the use of these products to FDA's MedWatch Adverse Event Reporting program:
www.fda.gov/medwatch/report.htm
(800) 332-1088

Recently I've heard several people mention that they wouldn't eat Chinese canned goods. I buy different products from Dollarama (such as mandarin oranges, mushrooms, etc.) that come from China and am wondering what others think about using them? Thanks!
By glenda eileen lockhart from Canada
Answers

June 2, 2011
1

found this helpful
Best Answer
We are careful to avoid, as much as we are able, all canned foods from china. Their laws do not match ours in cleanliness, and we only have to be sick and in the hospital one time to regret any food we ever ate that came from there. Just because we like that particular food, or it was cheaper. If you can't find information as to source on the printed label, you can sometimes tell by a printed code on the can, which I can't recall right now, but you can research it on line, I am sure. It is like "prc" for peoples republic of china, or something. Better safe than sorry.

June 14, 2011
0

found this helpful
Best Answer
With all due respect, I have a hard time believing LisaE2, it sounds like a posting by someone who is fond of urban myths and not fond of Chinese people. However, if you are concerned about food you've bought, do some research! You can start by checking out this article: www.ers.usda.gov/.../EIB52_ReportSummary.pdf
I understand people go on here to check for tips, but asking people about something you could easily research yourself, and then trusting their advice so much that you take it as 100% gospel truth and trust your family's food safety to them is naive and dangerous. I don't understand why people ask unqualified, random strangers for advice on everything from what to eat to who to vote for. Do some research, and make sure you ask and/or read a study by an expert. Double-check your facts, too. And stop trusting anonymous strangers so much.
Answer

this Question