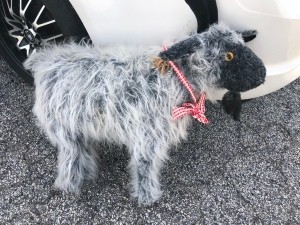 Hey guys! So I found this awesome Goat at the thrift store, and he needs a little TLC. Especially his poor little beard, have mercy, this goat looks like he's got a Rooster's wattle right now.
Problem is, I can't seem to identify him to figure out what he's made of to give him the TLC he needs! Ugh. After looking at how he's made and noticing the brass bell around his neck, I'm thinking he might be a vintage item? Both legs are stiff and feel like wooden rods maybe, seem to be screwed on as I could twist them (just a bit, I stopped because I didnt want to damage him). I'm going to be honest, this isn't my wheelhouse, so forgive me for the awful description.
Anyone know where my new friend could've come from? Many thanks in advance!