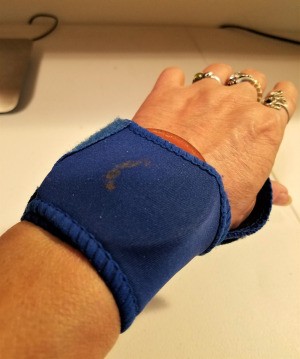 In 1975, I was injured in a freak accident. I didn't break anything, but I have a permanent injury to my left wrist. And if I overdo it, it reminds me with a searing pain that debilitates me for a day or two.
Knowing that the braces that have the steel rods in them are about 24.00, I found a solution that cost only 1.00. You can get the braces at the Dollar Tree. They work "okay" but basically just remind you not to bend your wrist. They don't really prevent it from happening. So, I put both of them on my wrist, with a small jar lid in between. It works great and I saved $23.00 and a trip to another store.
With a hammer, I bent mine just a bit to curve around my wrist and help the top brace to fit over the bottom one. Win Win!
Here's hoping you never have to do this, but if you do now you know how.