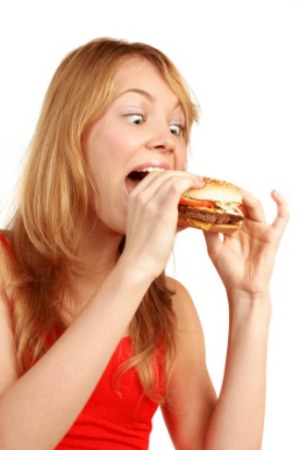 In response to the person who used a straw to dislodge something they were choking on...

NEVER, NEVER put anything down your throat. If you or someone is choking follow these steps. These steps are for anyone over the age of 1. Moderate the thrusts according to the size of the person.
1. If you/they can cough, do nothing except encourage forceful coughing. If a person can cough, they can breathe.
2. Once you/they can no longer cough or speak, you have to perform abdominal thrusts (heimlich). To do this, make a fist with one hand and place it, thumb side against the body) just above the belly button. Using the other hand, forcefully press in and up in a jerking type of movement several times until the object is dislodged or unconsciousness occurs - CALL 9-1-1.
If you are by yourself, call 9-1-1 after two thrusts. If the thrusts have not worked, you may want to place your diaphram against the edge of a table and drop onto it. This will hopefully put more pressure on the diaphram dislodging the object.
3. If the person loses consciousness, ease them to the floor and check to see if the object became dislodged. Use your index finger to sweep the mouth to check as well. It is dark in there and you may not see the object. You may not have to sweep with a child as their mouths are smaller and you should be able to see if there is anything there.
4. Try to give the person 2 breaths by tilting their head back, plugging their nose and covering their whole mouth. If the air doesn't go in the first time, try tilting the head back further and try to breathe in again.
5. If this fails. position yourself across the persons thighs and place the heel of one hand just about the belly button and place your other hand on top. Do 5 thrusts (in and up).
6. Go back to the head and check again to see if the object is dislodged.
7. if there is nothing there, try tilting the head again and breathing 2 times.
8. Air doesn't go in go back to the thighs and repeat the thrusts.
Continue with thrusts and breaths until the object is dislodged and the person is breathing. If they are not breathing but air is going in, continue with Artificial Respiration until help arrives.
If you are on your own and you have called
9-1-1 and you manage to dislodge the object by thrusting your abdomen against a table, let the ambulance come anyway. You should be checked to make sure no damage was done to the ribs, trachea or esopagus.
Whenever a person has received the heimlich, they should be seen by a doctor to check for any damage.
Your best way of helping someone who is choking is to take a first aid course before you are needed to act to save a life. Check with your local community centre to see if they have first aid courses. Or, you can check with your local Red Cross (U.S. and Canada), or St. John Ambulance (in Commonwealth countries).
Darlene in Mississauga
Read More

Comments
Tips for helping you are or someone else who is choking. Post your ideas.

Answers
February 7, 2005
0

found this helpful
I was home alone and had a ham sandwich for lunch--and I choked on the ham--with quick thinking I grabbed a regular straw and put it in mouth and pushed the ham down. I feel this saved my life.
By Cup H. - Jerusalem, Ohio
February 7, 2005
0

found this helpful
The best way to help someone choking is to know the Heimlich maneuver. Check for first aid training in your area. The Heimlich is usually included in the curriculum. DO NOT pat the choking victim on the back--it can actually lodge whatever they're choking on even further into their throat.
Here is a website with directions and diagrams, but I would still recommend taking a first aid course.
www.heimlichinstitute.org/howtodo.html
Camilla
February 7, 2005
0

found this helpful
You are very lucky. Do you realize that by doing what you did you could have damaged your windpipe/esophagus badly? Like calnorth61 said, find some first aid trining in the heimich maneuver. If you are on your own, try placing your fist just above your belly button and using your other hand, jerk quickly in and up. If this doesn't work after 2 tries, you can position yourself with your diaphram up against a table and drop onto the edge of the table. I would also suggest that you call 9-1-1 before you try the table maneuver because it doesn't take long for a person to lose consciousness when there is a lack of oxygen. Please, PLEASE get some first aid training and have your family go with you. You'll be surprised at how much you and they will learn.
February 7, 2005
0

found this helpful
The Heimlich manoeuvre is no longer recommended by St Johns Ambulance in Australia and the Australian govt as first aid for choking - I assume because the Heimlich is a difficult manoeuvre for the inexperienced to perform effectively and safely - its not as easy as it appears on the TV! In Australia recommended first aid for choking is encourage to cough, then 4 firm back slaps and check for response, (in a child they should be head down across your knee), followed by lateral chest thrusts, on one side with the person in the recovery position for an adult and on both sides, below the armpits, for children and fully obstructed babies. These work on the same principle as the Heimlich mnaoeuvre - forcing the remaining air in the lungs up the 'windpipe' to dislodge the blockage out of the airway. It is highly unlikely they will force something 'further into the throat' but are safer than amateurs thrusting below the rib cage where they could rupture the stomach, liver and spleen.
The most important thing is to prevent choking - in adults, cut food and chew properly - in kids avoid small toys and don't feed chunks or sticks of raw vegetables or other foods to very small children.
Regards
Jo
February 7, 2005
0

found this helpful
Regarding the tip for the person who is choking.
NEVER, NEVER stick anything down your throat to try to dislodge an object stuck in your throat. A lot of damage can be done by doing this. Thankfully the person who posted the tip didn't sustain any injury but she was very lucky.
If you are ever choking, try coughing really hard. As long as you can cough, you are getting air. Once you can no longer cough, you have to act quickly.
1. Place a fist just above your belly button with the thumb against your body.
2. Using your other hand, push up and quickly on your fist. This puts pressure on your diaphram and will hopefully dislodge the object.
3. If this doesn't work after 2 attempts, call 9-1-1 and then try positioning yourself at the edge of the table with your diaphram directly above the edge and dropping onto the table. This may apply more force to the diabphram to dislodge the object.
4. It doesn't take long to lose consciousness once air is toally blocked so calling 9-1-1 as quickly as you can is the best thing you can do. Even if you do dislodge the object, you should be checked out to make sure you have not done any damage to your ribs, esophagus or diaphram.
THE BEST THING TO DO - GET SOME FIRST AID TRAINING!!!! In the United States, check with the Red Cross, In Canada, check with St. John Ambulance or the Red Cross.
Darlene in Mississauga
February 7, 2005
0

found this helpful
I too was home alone and got a piece of sandwich stuck in my throat. I leaned over the kitchen sink and thrust my body up against it. By doing that I gave myself the Heimlich maneuver and dislodged the obstruction. I had just heard to do this about two days before. You can also use a chair back.
By Guest (Guest Post)
April 20, 2005
0

found this helpful
My personal opinion is that if you are with someone, the Heimlich Maneuver should be used only as a last resort - when other measures have failed. You wouldn't blow out a match with a fire extinguisher - why use Heimlich when a couple of blows to the back will do the trick. Furthermore, the presence of coughing does not necessarily indicate that all is well. You know if you need help. If you are with someone who is having difficulty, simply ask "Do you need help?" If the response in any way indicates a "yes", give a couple of blows to the back to see if that helps. There is less risk of damage to ribs and internal organs.
By Mamabear0921 (Guest Post)
August 9, 2005
0

found this helpful
You should NEVER give anyone who is choking blows to the back unless they are under 1 years of age. By doing this, you are possibly forcing the lodged object down the windpipe further. If the Heimlich is performed properly there should be no internal damage done the victim; however they may vomit from lack of oxygen. I know it is a natural reaction to pat the back but this could cause more damage than performing the Heimlich would.
Read More

Answers