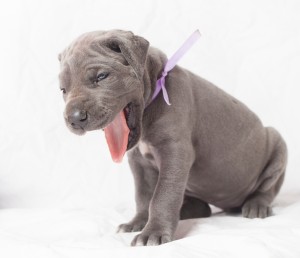 I hope no one ever has to use this information on their own pets, but it can save a life in an emergency situation. A dog or cat choking on an object can quickly pass out or even suffocate, even if the windpipe is only partially blocked. You may find that dogs have problems with choking more often than cats because dogs love to play and chew, and toys (or pieces of toys) can get caught in their throats.
How do you know your dog or cat is choking?
You may hear gagging, retching, or coughing, and your pet may become panicked.
What do you do first?
If you can hear breathing/wheezing, your pet is still breathing and you have time to get medical help. Call the vet and hit the road. You may want to wrap your pet in a blanket if they are frantic and struggling.
If your pet is not breathing at all, you should first attempt to reach the object with your hand or tongs/pliers/tweezers. Grab your pet's tongue with one hand, then try to reach in and grab the object. Use the tongs ONLY if you can see the object; don't go groping around blindly, you could damage the throat or lodge the object more firmly. If you can't get it after one or two quick tries, it's time for the Heimlich maneuver.
Heimlich for cats and small dogs
Hold the pet with her back against your stomach, head up and feet down. Place your fist in the hollow below her rib cage and pull in and upwards towards your belly and chin. Repeat two or three times, then check to see if the object has come loose into the mouth.
Heimlich for large dogs
Lay the dog on her side. Kneel behind her with your knees against her backbone. Lean over and fit your fist into the hollow below her rib cage and pull upward and inward, towards the dog's head. Repeat two or three times, then check to see if the object has come loose into the mouth.
If you dislodge the object, most pets will start breathing again on their own. You should probably call the vet and bring your pet in for a check after everyone calms down a little. Some pets will need mouth-to-mouth to help jump-start the process. You can give up to twenty breaths per minute until your pet starts breathing again, or until you reach the veterinarian's.
If you can't dislodge the object, you can repeat the Heimlich maneuver while someone drives you and your pet to the veterinarian.
Comments
Read More

Comments