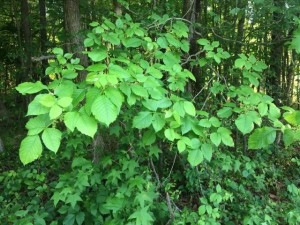 I learned something new. My daughter and I took a stroll on a farm path down by the woods. As we were walking, I noticed a tree that had a limb, about head high, that was filled with pretty leaves with small white clusters of flowers.
I asked,"What kind of tree is that?" She said, "It's not a tree, it's poison ivy." Sure did look like a limb on a small tree to me. I'm glad I did not touch it.
I had never seen poison ivy that grew this high and was branched out like that.
I've always thought poison ivy and poison oak were the same. I learned that poison ivy is a vine and poison oak is more like a small shrub. Both can be identified by the three-leaf cluster and the shape of the leaves.