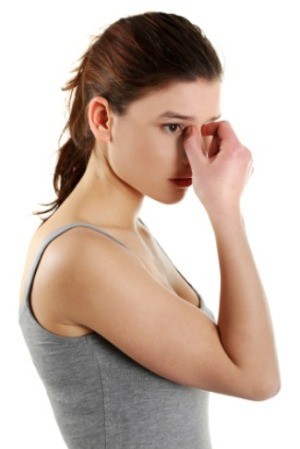 Whenever I get a bad sinus headache, I take a piece or two of clear medical tape and stick them onto my forehead. The tape needs to be held on both ends so that it is a little taut. I don't know why this works, but it has helped me innumerable times, since I'm prone to sinus headaches. Even a band-aid will help, but not as well. This may help with other types of headaches too.
Source: I found this out by accident. One morning when I had a bad headache, my daughter (who was 4 at the time) wanted to put a band-aid on my forehead to help my "owie". I let her put one on, and was amazed at how much it helped.
By kitkatk100 from Wichita, KS
Read More

Comments
I've been running a humidifier for about 2 months now and it doesn't seem like it's helping my stuffy nose. Is there anything I can add to it to maybe help clear my sinuses?
By Kerry
Answers

February 27, 2014
0

found this helpful
Best Answer
I was having the same problem I ended up going to an allergist. My problem was dust mite allergy. dust mites love high humidity. all houses have dust mites. Just some more than others.
I was cleaning three times more than they suggested had covers on all my pillows, mattress and box springs. Getting rid of a humidifier was my largest help
February 27, 2014
0

found this helpful
Best Answer
A Neti Pot does wonders. In case you don't know what they are, do a google search. You can find them at drugstores and probably Walmart carries them too. They are around $10. You can probably go to YouTube and see how they're used. Cleaning out your sinuses a couple times a day does wonders and makes breathing so much easier. I learned what they are and how to use them by watching Dr. Oz's tv show.

February 28, 2014
1

found this helpful
Best Answer
I certainly agree that a Neti pot is the best solution but just a word of caution.
Be sure to use either freshly BOILED water (cooled) or distilled/purified water if you are making your own solution.
There is a lot of information on the Internet about the pros and cons (and dangers) of using a Neti pot.
My doctor explained to me that bacteria can be in regular tap water that does not harm us in drinking but can cause problems in your sinus cavities. Be sure to read about it before trying (but it does work! even if used only once per day).
Answer

this Question
I love your newsletters, they have helped me to be a much more thrifty person. I'm needing some help but I don't know if anyone can help me but here it goes. I had gone to my doctor and he told me that I had one of the worse cases of sinus problems. It's so bad that I vomit day and night and I'm not able to keep food in my stomach. I have tried everything out on the market for sinuses and also the doctor has given me prescriptions for "meds".
Right now there is nothing for me to take, so I was wondering if anyone knows of a herb or if there is something that I can do to resolve this problem that I have. I don't have much money and going to an ears, nose and throat doctor is really out of the question. I would really appreciate any help that anyone can give me.
Thank You
Wendy
Answers

July 18, 2004
0

found this helpful
my daughter has sinus problems too, the dr. suggested nasal douching. In a 1 quaart glass (very clean) fill with warm tap water. put 2 to 3 heaping teaspoons of pickling or canning salt(no table salt) 1 teaspoon baking soda and mix. store at room temp. up to a week. 2 to 3 times a day use a bulb syring ( baby nose cleaner). put liquid in bowl , then into syring then place in nostrel , stand over the sink . I hope this works for you.
By (Guest Post)
July 19, 2004
0

found this helpful
Peppermint essential oil(NOT fragrance oils!) a drop on your tongue and/or mix a drop with 10 drops of sweet almond oil and put a bit on your forehead, over the area of conjestion. If it gets too "hot " on your skin add more pure sweet almond oil to cool it down. Repeat as needed.
Really opens up the sinuses in my experience.
Make sure you get the highest quality oil you can afford. This is a case where you get what you pay for. Select the highest price, essential oil available. Do not skimp here.
Keep you hands away from your eyes and other mucus membranes too or the EO may "burn". Cool with almond oil if you forget and get some in your eyes. I warned you!
By Mary B (Guest Post)
July 19, 2004
0

found this helpful
Wendy, do you get headaches? I suffered with "sinus" headaches for almost 20 years (I even ended up in the ER a couple of times). I finally when to an ENT during one of my headaches and he stuck a scope up my nose. To my surprise he said it wasn't my sinuses but a migraine. He said that sinus headaches don't make you throw up. Changing my eatting habits and going off certain medications has helped temendously.
By Evie (Guest Post)
July 19, 2004
0

found this helpful
Wendy, I have sinus problems also and I use the herbs echinacea and zinc. They work great for me . I have also been told to drink some red tea, I havent tryed the red tea yet. I have found all of these things at super walmart. I hope this helps.
Evie
By lisa (Guest Post)
July 19, 2004
0

found this helpful
Hello,
you really have to see a Ear, nose and throat dr.
It could be something that needs attention..
my nil dealt with sinus infection for a long time.. turns out it was something completely different.
I urge you to go !! NOW.. Please .. get a loan.. have mom or dad pay for it..
sorry to be so pushy.. but honestly ..it is nothing to put off !!
Lisa
By Linda (Guest Post)
July 19, 2004
0

found this helpful
I use and swear by nasal irrigation using a "neti" pot - same idea as the bulb syringe, except you pour a steady stream of warm water with just a pinch of salt up one nostril, and eventually it works its way out the other. Sounds gross, but I am so much better and no longer suffer from sinus infections. Source for Neti Pot - www.internatural.com search on "neti pot". Good luck!
By Anna S. (Guest Post)
July 19, 2004
0

found this helpful
Go to (www.herbdoc.com) and look for Lobelia. My father had severe allergies and would choke and not be able to breathe and he would take 15 drops in 2 oz. water and would be coughing up mucus and blowing nose in just 2 or 3 minutes, this worked when even a nebulizer would not. I eat Peppercini peppers and sip the juice to help clear my sinuses.
By woofey (Guest Post)
July 20, 2004
0

found this helpful
Just a quick grating of fresh horseradish and even an inadvertant inhalation of the fumes sure wooks for me!
By Fran Marie (Guest Post)
July 20, 2004
0

found this helpful
If there is any sign of infection take one clove of garlic (cut into pill-sized pieces) three times a day. It's anti-biotic and astringent. (This is also wonderful at heading off a sore throat! My son CHEWS the garlic [ew!] and swears it works better)
Fresh rosemary tea is also anti-biotic.
For the nausea-fresh ginger root. (Do NOT chew. It's spicy!)
By Monekia (Guest Post)
May 15, 2005
0

found this helpful
what i have found to give me relief was irrigation and cool air. Drink plenty of fluids and and whenever possible sleep with a humidifier.
By Shelia (Guest Post)
January 31, 2006
0

found this helpful
I did the irrigation thing yesterday and the water didnt go through to the other nostril. After I had such pressure that I thought I could not stand it anymore. Today is just a little better. Still have terrible pressure. I can breath fine. Help!
Read More

Answers