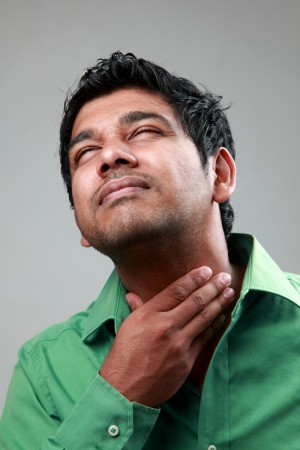 Last week, I notice that I had another tonsil stone. The hole on the back part of my tonsil had filled up with debris and calcified again.

I had this problem about a year ago and had made an appointment with the doctor to have it checked as I thought I had strep throat although I did not feel sick, had no fever and my throat was not even sore. I had never heard of tonsil stones until the night before my appointment when I ran across some information about it on the Internet. After reading information and comments about tonsil stones, I started pressing on my tonsil and swabbing it with peroxide.
The next morning after brushing my teeth, while getting ready for my doctor's appointment, I looked at my throat and the stone was gone. I called and canceled my doctor's appointment. The receptionist told me that her daughter also has problems with tonsil stones.
For a week now I have swabbed this tonsil stone with peroxide and pressed on it with my finger all to no avail. But tonight I got an idea. I thought about using the flat handle end of my toothbrush to press on it to see if I could pop it out. After sterilizing it, I got to work. With my flashlight in one hand and toothbrush in the other, I looked in the mirror and gently pressed on the tonsil below the stone and it popped right out clean as a whistle. I then swabbed the hole with peroxide and gargled with hot salt water.
I'm so glad to get that yucky thing out of my throat. Looks like I'll be stuck with this hole in my tonsil, almost like it has been pierced. To keep it clean, I'll be gargling my throat every night with hot salt water and stop eating between meals. I also read on the Internet to avoid tonsil stones, it's best not to eat just before going to bed. Maybe I'll lose that 5 pounds I gained during Christmas.
The medical term for this condition is Tonsillolith and it is very common. I'm so thankful for the Internet. It saved me a doctor's visit.
By Betty from NC
Read More

Comments

Someone please help me!! Before this I have never had any trouble with my throat! Back in mid Sept. I was brushing my teeth and saw a small pus spot in my left tonsil. I popped it several times but it kept coming back. I gargled with salt water and it disappeared. A few days later my throat on the left side (side the pus spot was on) was throbbing! My lymph node swelled for about a week then my left ear starting hurting! I have been to the E.R. numerous times, the regular doctor and an entomologist had strep tests, mono tests, an x-ray, ct scan, the entomologist scoped my throat. None of these doctors can tell me anything! I was even put on penicillin and azithromycin BEFORE I was tested for strep which obviously was negative!
Now I'm on amoxicillin because I found a pus bump in my gums, went to the dentist and found out I had an abscess tooth, had a root canal. I even asked the dentist if this all could be connected, but he said no. So here I am 3 months later still having this throat pain, just on the left side, sometimes I even have a gagging sensation when I swallow, and my ear is hurting so bad and here recently been having headaches. The only thing doctors can say is maybe you need your tonsils taken out, but I don't think that is the problem. One pus spot EVER, and I need surgery? Not what I want to do. If anyone has had these symptoms or has them please let me know if you found out what was going on or what you did. Thanks.
Ammie from Louisville, KY
Answers

December 8, 2007
0

found this helpful
You can still have strep and test negative, I did and my husband did. Even though you were on antibiotics, maybe you need something a little stronger to get rid of the bug. When I have strep, the doctor puts me on a really high dose of strong antibiotics. My advice would be to tell your family doctor what you want. Sometimes you have to.

December 8, 2007
0

found this helpful
You need to see a doctor for this, dont fool around with it. It is a infection and they need to give you medicine for it

joan pecsek
Bronze Request Medal for All Time! 66 Requests
December 8, 2007
0

found this helpful
I've had these symptoms on and off most of my life(55 years). A few years ago I was finally diagnosed as having a sinus infection. The dentist said sinus infections don't respond well to antibiotics. He called the white spots "tonsil stones" and said they don't respond to antibiotics either. Then he gave me zithromax, an antibiotic! The infection was gone for about a week then came right back. I went to a health food store and the clerk recommended nasal irrigation 3 to 4 times a day(there are many sites that tell you how to do this).
Then after each irrigation take a long q-tip like they use in doctor's offices, dip it in hydrogen peroxide and swab it directly on the tonsils. It worked beautifully! After having this problem most of my life it was gone in a week. After the infection clears up you can do 1 irrigation a day and 1 swabbing for prevention. The problem tends to come back periodically but you can start all over again. Faster and cheaper than anything I ever got from a doctor. But I agree with the other posters, you should give another try at seeing a doctor.

Marty Dick
Bronze Post Medal for All Time! 169 Posts
December 9, 2007
0

found this helpful
Perfumed fan mentioned hydrogen peroxide. I use it 2 or 3 times a week as a mouth wash. That might not be a bad idea to keep those pesky things from getting inside your mouth again.

December 9, 2007
0

found this helpful
Have you tried going to an ear, nose, throat specialist. It seems to me that you have done everything else. If it were just your tonsils, I would think you would only have a spot on the tonsils not on the gum. If this is a virus and it sounds like it might be, I don't think any antibiotics will help. You might try yogurt. Yes, yogurt. When I had sores in
my mouth and throat the Dr. told me to eat yogurt and take vitamin B. It worked!!

Maryeileen
Bronze Request Medal for All Time! 59 Requests
December 10, 2007
0

found this helpful
I would get what you describe as "pus bumps" occasionally, and I when I would get a sore throat it was horrible. I had my tonils removed using laser surgery when I was in my early 40s and it is one of the best decisions I have ever made!
By Diana (Guest Post)
December 11, 2007
0

found this helpful
Ammie
You didn't say how old you are but my 16 y/o DD has tonsils that collect food particles, which as they decompose cause white spots and a sore throat. She's also been treated with antibiotics and DR says if it keeps reoccurring...she'll have to have the tonsils removed
We live in Prospect (right out side Louisville in Oldham county) Maybe it is a "Louisville Thing"
By Carol in PA (Guest Post)
December 11, 2007
0

found this helpful
My daughter struggled with her tonsils for her entire life. She is now 39. Last year she finally had her tonsils removed and it is one of the best things she has ever done.
But I agree with the person who recommended an ear, nose, and throat MD. They are the only type of doctor who can really help you with your problem. (Emergency rooms are often staffed with interns... )
I wouldnt stick anything up inside my nose, but I recommend using salt water solution sprayed into the sinuses. Usually these things come from the sinus and dripping down. You will be surprised at the healing effect salt water can have. You can buy it under the store brand name in the grocery store or discount center. It is money well spent. Use it daily after you bruch your teeth as part of your normal health regimine. Dont wait until you are sick to do it. (smile) It works when you are sick, but usually can nip that in the bud before it gets full blown illness. I too believe you might have a virus. We all know they hide near the nerves and come out from time to time. They never go away to my understanding, but are always there and flare up when you are tired, have allergies, or a cold. (sigh)
Good luck
Read More

Answers