Homemade Baby Shower Decorations
Solutions
Share on ThriftyFunThis guide contains the following solutions. Have something to add? Please share your solution!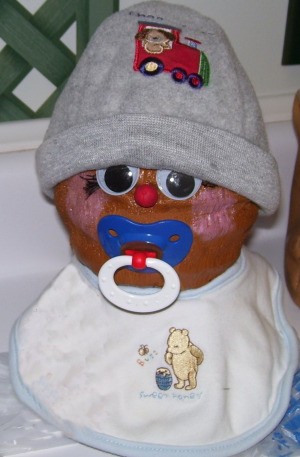 When decorating for a party or special occasion, sometimes ideas run dry. When this happens to me, I try to think "outside the box". I did just that for my daughter-in-law's baby shower. I live in Florida where coconuts are in abundance and decided to make some babies with them for the main table.
I set the coconut in a tube base made with cardboard to enable it to stand up and tied a bib around the neck. I cut the rubber insert off of a pacifier and glued it to the mouth area. I also glued on some black thread for eyelashes and some wiggle eyes. Slip on a hat and paint some pink on the cheeks. Even if you don't live in a coconut state, you can purchase them at grocery stores. Everyone enjoyed the coconut babies!
By Mary from Palm Coast, FL
I recently threw a baby shower for a friend here in Vietnam. This was her first time attending a baby shower. In Vietnam, people don't have a party until the baby is 1 month old. This party is similar to a baby shower, in that many people bring gifts or money for the baby. Since she is married to an American, we thought it would be nice to give her an American-style baby shower.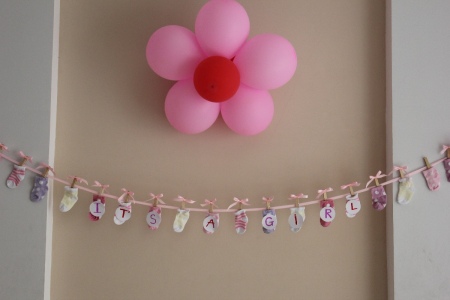 Supplies:
red and pink balloons
pink ribbon
glass jars
assortment of pink and red flowers
fishing line
clothespins
baby socks
paper
markers
Steps:
Since I am living in Vietnam, I don't have access to a craft store. I had make do with what I could find locally so I kept my theme fairly general. My friend is having a girl, so I decided to go with a traditional girly color scheme of pink and red, and do flowers as the theme.
I used pink and red balloons to make balloon flowers. I hung them up in the doorway and on the walls. These were easy to make and really looked cute.
I made a balloon banner that you saw right as you walked in the door.

I also made a sock banner, to hang above the cake table. I used clothespins to pin the socks to the ribbon. I glued a pink ribbon bow to the end of each clothespin. Then, I cut out paper circles that and taped onto the socks to spell out "It's a Girl." I love how this turned out. It doubled as a gift I could send home with the expecting mother.
To help tie the red and pink theme together, I had cute cupcakes made that had pink frosting with a cherry on top.

Throughout the house, I had pink and red flowers in jars with a pink ribbon around each jar. Fresh roses are inexpensive here, so that is what I used.
My friend had a wonderful time at her party and loved the flower decorations!
I helped my sister with a baby shower for my daughter-in-law recently. She went to a party shop and the lady convinced her to buy these cute little laminated baby things like you'd tape up on a wall or door. Not really knowing what to do with them, I brainstormed.

I have a closet full of wedding leftovers from ones that I've helped decorate. I got out all the medium and large honeycomb bells I had. Cut the top part of it off and paperclipped it together to make a base. Then I slid the laminated pictures into it and it made cute stand-up centerpieces.

The following weekend were two baby boy showers so we cut out the blue ones for it. I guess if you hold onto something long enough you'll find a use for it, huh?

Sharon, KY
Related Content