Anyone have any recipes for homemade cat food that is cheaper than manufactured. I have several cats and spend about $100 a month feeding them and that is store brand!
Karen from Bolivar, TN
Answers:
Homemade Cat Food Recipes
I have a source for free beef hearts and tongue. I boil them in water, cut into chunks, and chop fine in food processor. My two cats get some of this each night when I get home from work, and during the day they eat dry food. They love the beef! (12/03/2008)

By Ruth
Homemade Cat Food Recipes
If you plan to switch your cats to a 100 percent homemade diet, check out some of the nutritional information online, because there are certain vitamins and minerals which are very important to their health and might be missing in a diet a lay person would devise. Saving money on food doesn't accomplish much if you make it up on vet bills.

We've had several cats who didn't like canned food and who had long, healthy lives just eating a good supermarket brand of dry food. In other words, not the cheapest generic brand, but not the expensive kinds sold by vets, either. Stuff like Purina, in other words. (12/05/2008)
Homemade Cat Food Recipes
For about 6 months I made my own cat food. I bought a cat food cookbook in the cookbook section of one of the major bookstores. They loved it, but it is time consuming. I don't believe it was any less expensive, and you either need to supplement it with commercial canned food or find a place to buy things like taurine which cats need to have. They also cannot have all their meat protein cooked, I forgot why at the moment. (12/08/2008)

By Beth
Homemade Cat Food Recipes
Today I began searching for dry cat food alternatives. As we can tell by this long thread, so are many of us. Here is just a little of what I have found so far that makes sense.
Cats do not have a physiologic requirement for vegetables and actually lack the enzymes needed to break down this food source for efficient utilization. You can find more info:
http://www.catinfo.org/#Home-Prepared_Diets
Avoid fish flavored foods or treats, which are said to be suspect in crystal formation/urinary problems in males.

Cats need very very little carbs. (ie rice/oats)

One of our 3 cats, Mia- she is not fat, just fluffy- 80% fur! As you can see she likes to eat her feet, perhaps she has found her own diet!
(01/11/2009)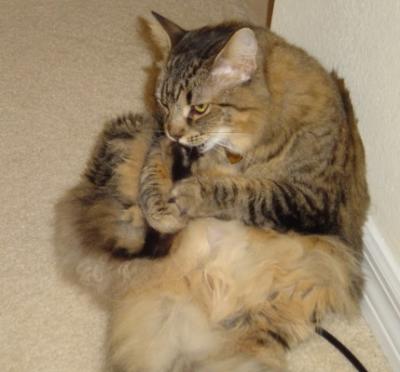 Homemade Cat Food Recipes
Please see this site! rexforhealth.com.
Click on the What's New tab, and at the bottom of the page is the simplest and most animal-friendly raw food recipe. I use it all of the time. This site also offers other valuable info.
(02/21/2009)

By Shirley
Homemade Cat Food Recipes WEB BLOG!
I know one very nice blog with plenty of good homemade cat food recipes, I think you will find there all these recipes and more, here's the address:
http://cat-recipes.blogspot.com.
More general information about how and what to feed your cat can be found in this blog:
http://feedmycat.wordpress.com. (04/06/2009)

By kindyroot
Homemade Cat Food Recipes
I find all this business of adding supplements is more expensive than buying cat food. And adding taurine is surely unnecessary if you feed your cat freshly cooked or raw meat and chicken bones. Why buy bone meal when you can grind up the bones or just give then the bones? My two cats have been doing splendidly with eating bones, plus it's what is more natural for cats. After all what how do feral cats survive?

They get to exercise their teeth and get the wonderful bone marrow! I have heard if you cook bones in a soup it makes them more brittle and perhaps more dangerous. So I just buy the ready-cooked chicken from Safeway and feed them the meat and the bones. They seem completely satisfied with the meat I give them, the same stuff I eat. I too will experiment with homemade food with a little carbs. (01/14/2010)
By woodnymph
Homemade Cat Food Recipes
I've read through all the comments, info., and suggestions here concerning homemade cat food. I've also done some online research on the topic. What I have found is conflicting info about certain foods and if they are good or bad for one's cat. For example, I've read recipes calling for vegetable oil, whereas I've also read that vegetable oil is not good for cats, both posted by vets. On a dangerous note, I've read onions are toxic to cats, but then I've come across recipes including onion.

I'm pointing out these inconsistencies as a warning: do your research. Don't take one person's advice, even if they claim to be a vet (online) or claim their own pet is healthy. Ask a few local vets, pet stores, pet owners, books, and online websites that appear to be written by experts. Figure out why some people say garlic is dangerous for cats while others say it's good for them. Then you can make an informed decision based on popular opinion or plain fact. Most importantly, you are being a responsible and loving pet owner. (06/05/2010)
By jennmf