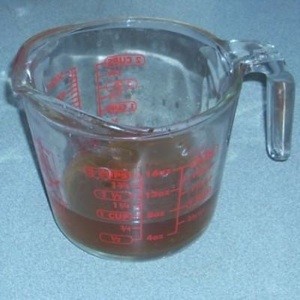 Many kitchen products can be used to make homemade shampoo, conditioner, and rinse. Hair rinses are usually used to add extra shine, bounce, color, or moisture to tired tresses.
Vinegar is a popular choice, because vinegar has the exact same natural PH as hair, so it's useful for restoring balance. Beer helps with shine and body, but only if it's dark. Light beer is too weak to help. Light oil and water mixtures are turned into boosting sprays that help bring out color and shine. Coffee and tea brewed in water can help make colors seem richer.
These items can be used alone or in any one of many assorted mixtures. One of my favorite recipes for a great rinse is my "Homemade Conditioning Rinse For Shine", as shown below.
Remember, whenever creating homemade beauty products, there's a chance of an allergic reaction. Regardless of what you make, always test it on a small patch of skin before spreading it over your body!
Approximate Time: 3 minutes to 3 hours
Supplies:
1/2 cup - Dark Beer
1/4 cup - Apple Cider Vinegar
1/2 tsp - Rosemary Essential Oil
Instructions:
You need to use a dark beer for this recipe. Light beers don't give the same body and shine to hair that a dark beer does. You also want the beer to be mostly flat. The carbonation isn't great for your strands, but a little doesn't hurt.
Mix the beer, vinegar and essential oil together in a container. Mix very well. If possible, put in a lidded container and shake well to truly mix. I pour the mixture into a glass measuring cup to make it easier to use.
Shampoo, rinse, condition, and rinse your hair as usual. Pour the beer mixture over your hair, making sure to douse every single strand. Let the rinse sit on your hair for about one minute. Then lightly rinse the mixture out, using lukewarm or cool water. You don't want to over rinse, it will wash all that lovely shine and body out. If you under rinse you'll walk around smelling like stale beer and vinegar.
Let your hair air dry if possible, but you can use a blow-dryer if needed. Once your hair dries, you should notice a huge boost in it's overall shine and body. You'll also notice a tiny bit more sparkle in your highlights and the depth to your hair color.
Comments

Judi
Bronze Feedback Medal for All Time! 239 Feedbacks
August 17, 2008
0

found this helpful
Ok, I'm a tee-totaler (sp?) and don't know dark from light...give me a brand and kind please.

Julie
Bronze Feedback Medal for All Time! 149 Feedbacks
August 17, 2008
0

found this helpful
mayonaise work great too, just put on and leave for about 20 minutes then rinse out good

August 17, 2008
0

found this helpful
I use Amber Bock, but that's only because it's what my boyfriend drinks and I can get some flat beer easily! You want to avoid light beers, especially Coors light, Bud lite and such.
You can try just using a can of Bud. It won't be quit as effective as the Amber Bock, but it will still work great.

Judi
Bronze Feedback Medal for All Time! 239 Feedbacks
August 17, 2008
0

found this helpful
This all reminds me of a time when I was teaching in a small school in a very small town. My assistant was a former bartender and she and I would laugh about how "an old wino and an old stick-in-the-mud" got stuck together. I told her I didn't want to buy a bottle of beer for my hair because the kids knew my feelings about drinking and I didn't want them to think I was a liar.
She said to me, "Honey, you know what people think when they see a woman buying just ONE can of beer? They think, 'Hu, that woman's going home to wash her hair." Since I'm not teaching any more maybe I can try it! :-)
Read More

Comments