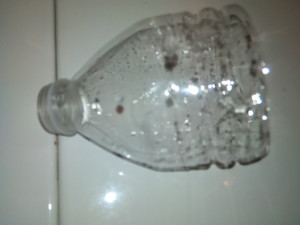 Recently I had to add oil to my car while traveling. I always keep a couple extra quarts of oil in the storage area along with a funnel, jumper cables, extra fuses, and a few other items.
However, for some reason, the funnel was not there. I had just finished a bottle of water, so I used the empty bottle to make a funnel. I think I actually like this better, because I can just throw it away after using, instead of trying to clean out the funnel that is normally there to keep oil off the storage area.
It is simple to make, just cut across the bottle. This could also be used in the kitchen, sand box, pool, or anytime you need a funnel.